I've cooked a fair amount of homemade alfredo in my day – some good and some bad, but I think I've found my favorite recipe for it thus far. And do you want to know what's even better? It's low calorie too! That makes it sure to be a family favorite in our house.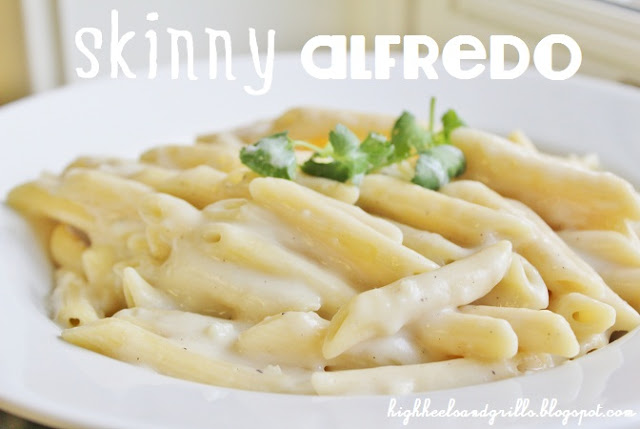 We've had this twice in the last week or so and it serves up some great leftovers as well. Try it out yourself!
Skinny Alfredo
Ingredients
1 13.25 oz. box of pasta (I like Dreamfields Penna Rigate)
1 Tbsp. extra virgin olive oil
4 cloves garlic, minced
2 cups skim milk
1 cup chicken broth
4 Tbsp. all-purpose flour, divided
½ tsp. salt
¼ tsp. black pepper
½ cup grated low-fat Parmesan cheese
Instructions
Cook the pasta according to the package directions.
Meanwhile, heat olive oil over medium-low heat in a medium saucepan. Add garlic and saute until golden brown.
In a small saucepan, stir together milk, chicken broth, 3 Tbsp. flour, salt, and pepper over low heat until thickened up. Stir into garlic. Continue to cook over medium-low heat, stirring frequently until the sauce is thick.
Add the last Tbsp. of flour for additional thickness and stir in with Parmesan cheese.
When sauce is to the desired thickness (remember it will get thicker as it cools), pour over pasta noodles.
I was very surprised at how much flavor was present for how healthy this meal really was. Hope you enjoy it just as much as I did!
-Sarah