These tin foil dinners are traditionally made with beef, carrots, and potatoes, but don't be afraid to get creative. They are so easy to put together and even easier to clean up!
Last week, I reminisced a bit about my childhood. Well, that got me thinking about other meals I had in my wee little days. One of those meals was tin foil dinners. What's that you say? You've never heard of those? Let me enlighten you a bit. Here is the definition I found in the Zactionary: "tin foil dinners: a conglomerate of delicious foods stuffed inside a pocket of foil and placed on/near hot coals or briquettes until cooked."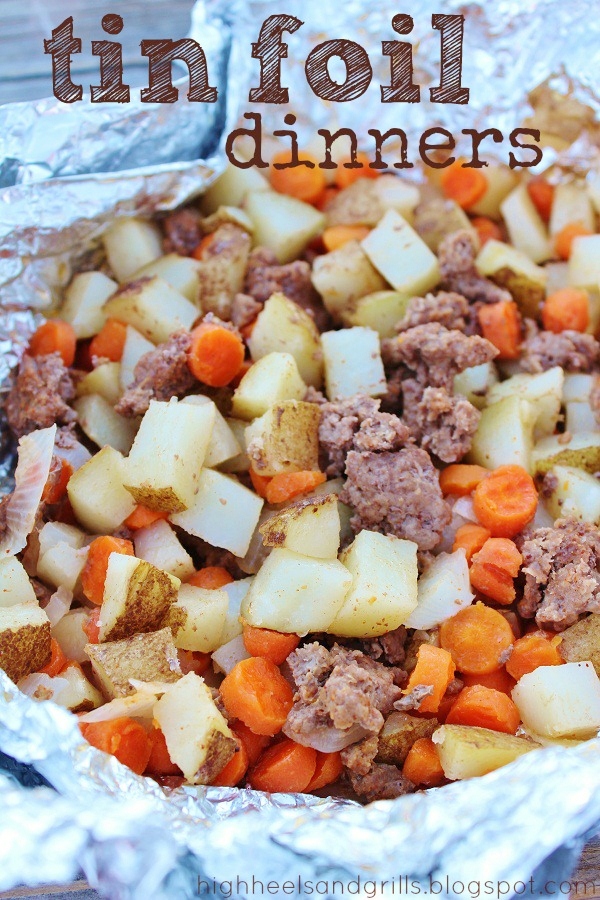 It's really very simple, but it yields amazing results. This is why: What happens when you grill something? A lot of the tasty juices run off and drip into oblivion. What happens when all those tasty drippings are trapped inside a Christmas gift of foil? You get a juicy mix of meat and veggies that don't lose an ounce of deliciousness.
I liked these so much on our family camping trips back in the day, that even when I wasn't camping I would eat them. True story. In 6th grade, I made one for myself and cooked it on a homemade, miniature fire in my backyard. I was a weird kid.
I usually like to eat these just as they are, but my wife and kids enjoy them with ketchup. With or without ketchup, you'll love this meal!
Other Recipes You Might Like:
Philly Cheesesteak Tin Foil Dinners – a delicious twist on regular tin foil dinners
Santa Fe Chicken Foil Dinners – chicken is surprisingly delicious in foil packets
Philly Cheesesteak Cups – meat, cheese, veggies, yum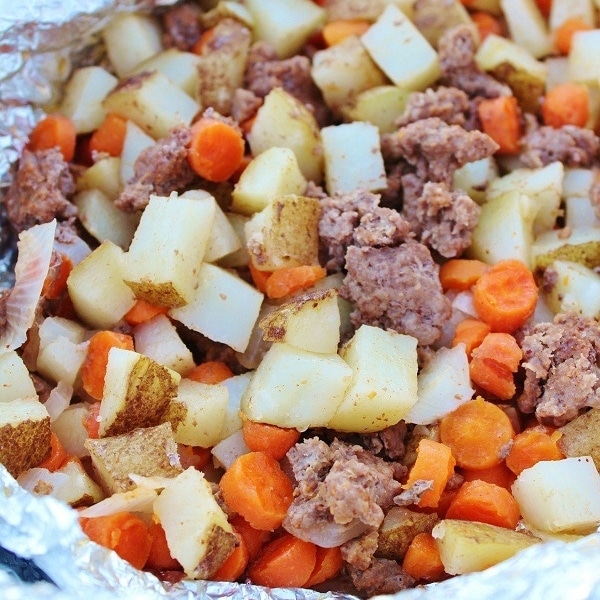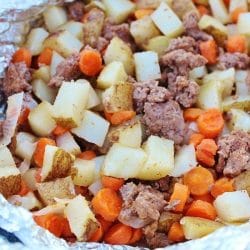 Tin Foil Dinners
These tin foil dinners are traditionally made with beef, carrots, and potatoes, but don't be afraid to get creative. They are so easy to put together and even easier to clean up!
Ingredients
1 & 1/2

lbs

ground beef

4

large carrots

chopped

4

large potatoes

diced

1

large onion

chopped

seasoned salt

to taste

Pepper

to taste
Instructions
Preheat oven to 350 degree Fahrenheit.*

Divide the meat into fourths. Pull apart bite-sized chunks of one of the portions and place them onto the center of a flat sheet of aluminum foil. Repeat for the other three packs.

Divide the carrots, potatoes, and onion into fourths and place each portion on top of the meat.

Season all of the meat and vegetables very generously with the seasoned salt and pepper.

For each packet, bring two of the sides together, keeping the food inside. Fold both of the sides over together, about 1 inch, and then keep folding over until your are snug against the food.

Carefully, fold each of the two other open ends over until you are snug against the food as well.**

Place the packet, seam side up, in the oven and bake for 15 minutes, flipping halfway through.***
Recipe Notes
*We like to make this recipe over an open fire when we are camping. We get the fire going and then after it dies down and there are only coals, that's when we put the foil dinner on.

**At this point, I like to double-wrap my tin foil dinner, so it doesn't leak and helps it to cook a little more evenly, but it's not necessary.

***If you are doing this over a fire, place your dinner very close to (or even directly on) a pile of hot coals/briquettes. Cook for approximately 10 minutes, flipping halfway through.
Nutrition Facts
Tin Foil Dinners
Amount Per Serving
Calories 632
Calories from Fat 306
% Daily Value*
Fat 34g52%
Cholesterol 121mg40%
Sodium 170mg7%
Potassium 1591mg45%
Carbohydrates 46g15%
Protein 34g68%
Vitamin A 10195IU204%
Vitamin C 48mg58%
Calcium 83mg8%
Iron 5mg28%
* Percent Daily Values are based on a 2000 calorie diet.