These Philly Cheesesteak Cups combine everything you know and love about a Philly Cheesesteak into a cute, little bite. Perfect dinner recipe for a weeknight meal!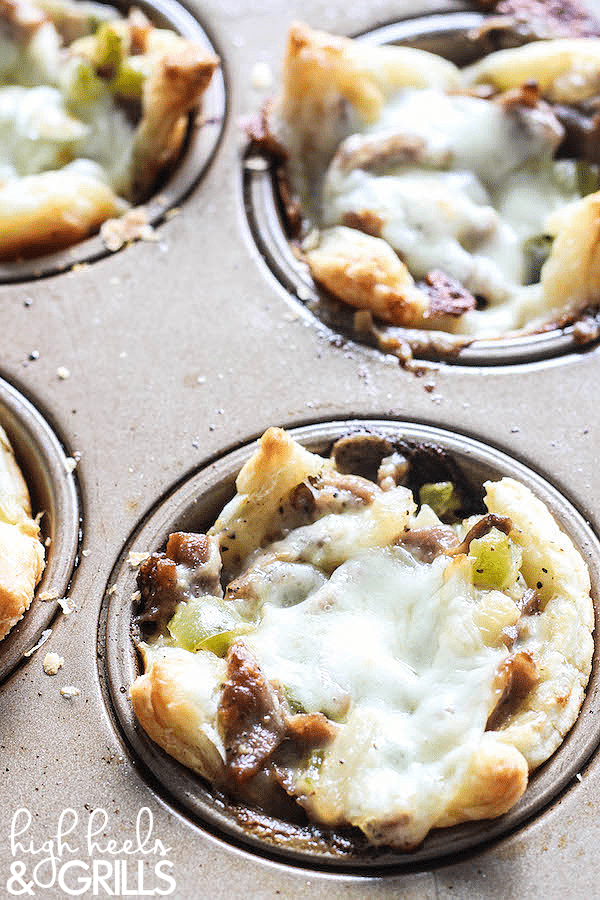 Welcome to Man Monday! So, about 117 moons ago, I used to work at a little sunglasses shop in a mall in Sandy, Utah. If any of you have ever worked in a mall, this will probably sound familiar…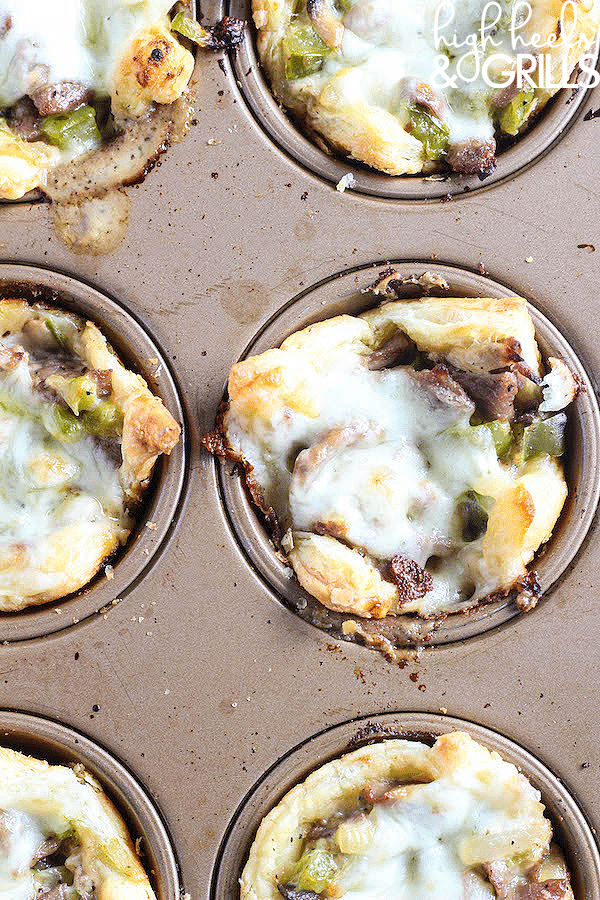 You just finished selling someone a very expensive piece of plastic and the potential customer pool has vanished. You think, man, I'm starving, what time is it? Wow! It's like, 2 hours past my lunch break! So, the natural thing to do is go on lunch-break right? Wrong! Not when you are the sole operator of a sunglass kiosk. What to do? You put out a tiny sign that says "be back soon," lock everything up, and run to the nearest food establishment in the food court. Luckily for me, my kiosk was about 35 feet from Charlie's Philly Steaks.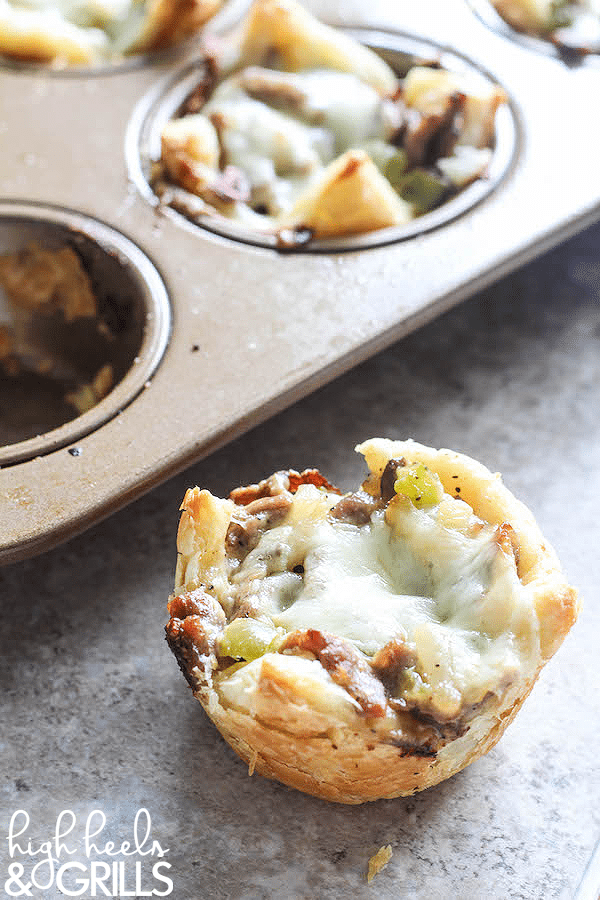 Nearly every day that I worked there I'd grab a cheesesteak and run back to my kiosk and hope I didn't lose a customer. After all, when your livelihood is based on commission, selling glasses with melted provolone running down your cheek is better than not selling glasses, amiright? Anyway, I found a love for Philly Cheesesteak sandwiches. The peppers, thinly sliced beef, melted provolone… writing it just now made me want one… at 7:44 in the morning…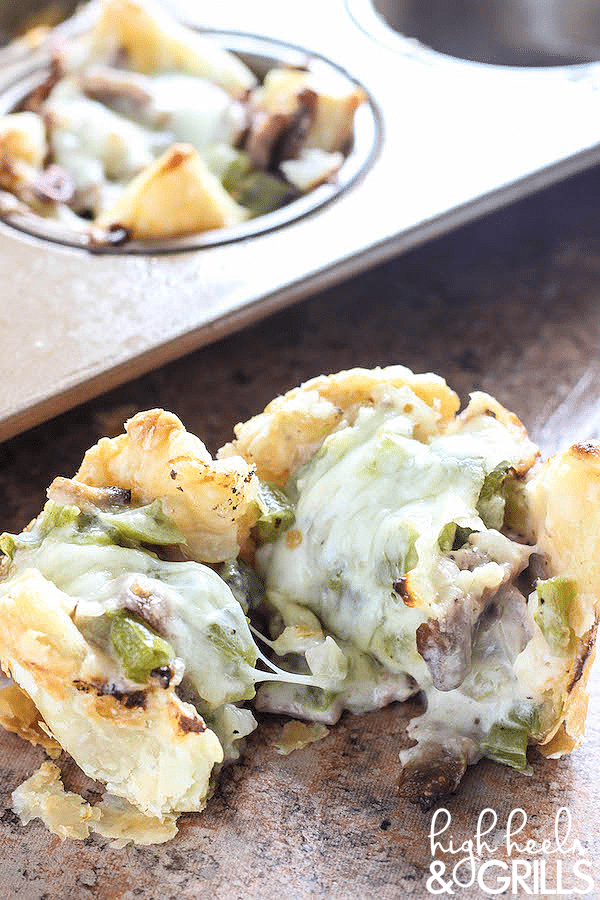 Well, us-here peeps at High Heels and Grills can't just leave well enough alone and make a plane 'ol cheesesteak sandwich. For one, we already did that here. And two, let's be honest, you, our customers, like the unique! So, just like I did back in Southtowne Mall, I give the customer what the customer wants. Introducing, Philly Cheesesteak Cups!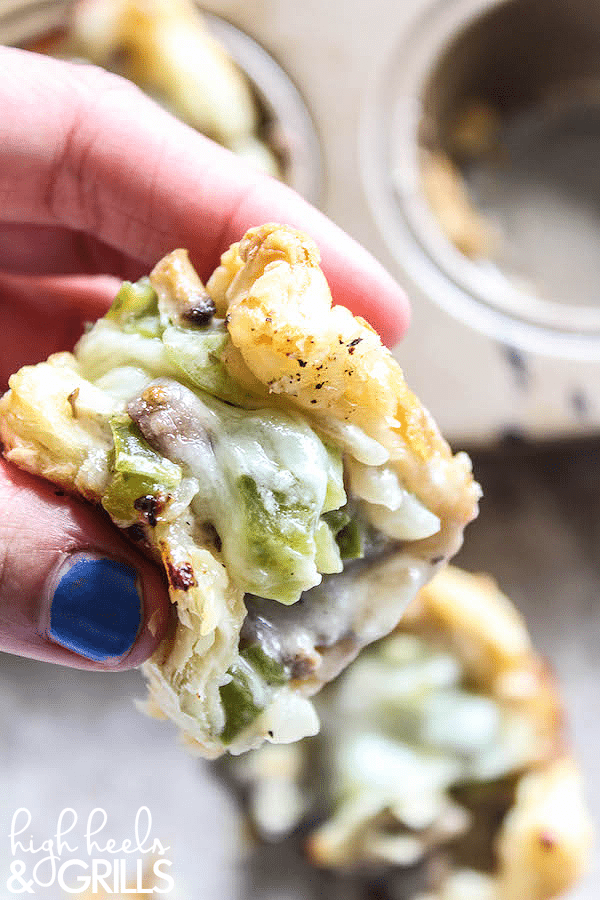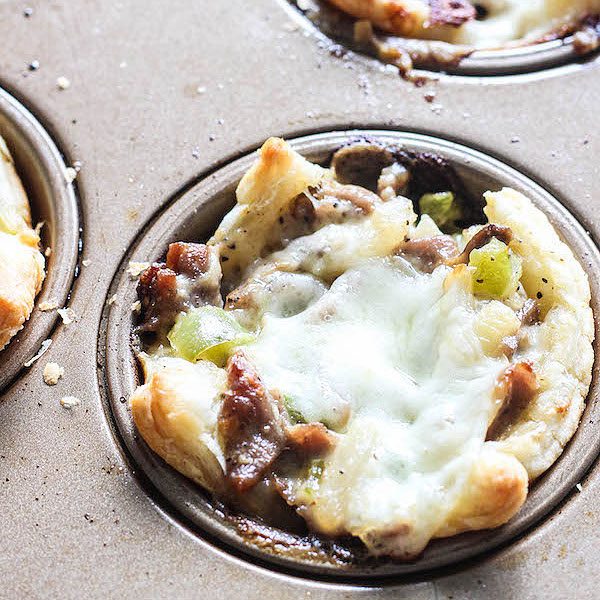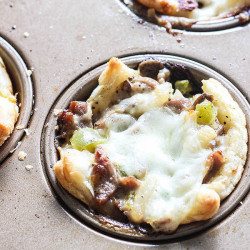 Philly Cheesesteak Cups
Philly Cheesesteaks, in little cups... because we can't leave a regular 'ol cheesesteak well enough alone around here.
Ingredients
1

lb

rib eye steak

thinly sliced (if you want to save a little money, use flank steak EXTREMELY thinly sliced, or use ground beef)

1

tablespoon

olive oil

1/2

medium onion

chopped

1

green pepper

chopped

1

cup

mushroom

chopped

1/2

teaspoon

salt

1/4

teaspoon

garlic powder

1/4

teaspoon

pepper

1/3

cup

heavy cream

1/3

cup

milk

1

package puff pastry

thawed

1/2

cup

provolone cheese

grated
Instructions
Preheat your oven to 400°.

Alright, first off, get your olive oil nice and warm in a skillet, add your chopped onion and peppers. Sautè on medium high heat for about 5 minutes. Add the mushrooms and sautè for another 5 minutes. Set aside.

There's enough fat in the rib-eye (same with the ground beef, but if you are using flank steak, add a little oil) you can just put the beef in the skillet as is. Cook, stirring frequently for just a minute or so. The meat is thinly sliced enough that it only takes about a minute to cook through. It's okay if the meat breaks apart.

Immediately add the pepper mixture back to the skillet with the beef. Add your seasonings, cream, and milk. Bring to a light boil, stirring constantly - shouldn't take long for the mixture to thicken. Remove from heat.

Spray each cup in a muffin tin with non-stick. Place about a 3-4 inch square of pastry dough in each muffin cup. Add about 1/4 cup of cheesesteak mix to each cup.

Bake for about 10 minutes. Place a small bunch of provolone cheese on each cheesesteak cup and continue to bake for another 3 minutes or so.
-Zach