Yo Man Monday following peeps!
Remember that one time that I posted these traditional foil dinners? Well, Sarah and I got to thinking… Why are those foil dinners so delicious? Well, if you read that blog post, you'd see that I already figured it out.  All the wonderful juices from the meet and veggies and such swim around together and create a flavorsplosion! Well, why can't we use that same method for other foods? I mean, why get rid of flavorsplosions for the sake of conformity and tradition?
Oh, and I know some of you are giving your computer screens questioning looks and  asking yourselves, "he knows flavorsplosion isn't a real word, right?" Of course it is, silly people. Along with bacontizers and my Man-it-up magic wand. You guys need to go back and view some of my other Man Monday posts to edumicate yourselves. Sheesh.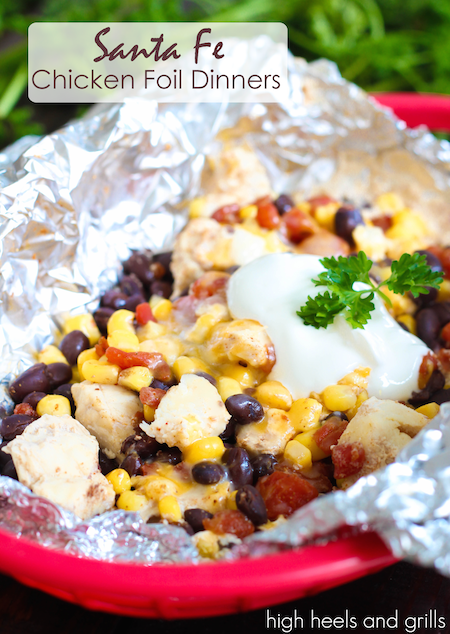 Santa Fe Chicken Foil Dinners

Recipe from Ready Set Eat
Makes 4 servings
Ingredients:

1 (15oz) can of black beans, drained and rinsed
1 (10oz) can of diced tomatoes with green chilies, drained
2 cups corn, frozen
1 teaspoon ground cumin
1 teaspoon onion salt
1/2 teaspoon chili powder
1/2 teaspoon paprika
1/2 teaspoon salt
4 boneless, skinless chicken breasts (brine the chicken when thawing to make for a better and more moist meal – if you don't know what brining a chicken is, it's virtually thawing chicken in heavily salted water)
1/2 cup shredded cheese, Mexican blend
4 tin-foil squares, about 18″ x 12″
cooking spray

Directions:

Preheat your oven to 425°F.
Mix together your beans, tomatoes, frozen corn, cumin, onion salt, chili powder, paprika, and salt in a bowl.
Spray each tin-foil square with cooking spray on one side. If you didn't brine your chicken, I'd recommend pounding each piece of chicken with a meat tenderizer. Cube your chicken and place it in the center of their own individual piece of foil, on the side you sprayed.
Spoon 1/4 of the bean mixture on top of your chicken. Bring together the short sides of the foil and fold it at the top. Then bring the long sides together and fold again. Make sure you leave a little room inside the packet for steam-expansion and other big concepts that I don't entirely understand that make food delicious.
Place your packets on a baking sheet and let cook the oven for about 17-20 minutes. Carefully open your packets so you don't get angry steam burns. Place about 1/8 cup of your shredded cheese in each packet and reseal it for a few minutes to melt. That's it!
These are super easy, and I hope you need to call the fire department to help you take care of the FLAVORSPLOSION in your mouth.