I've been on kind of a salad kick lately. (That's if you define a salad kick as eating a salad occasionally and loving it, because let's be honest – you can only eat so much salad before all you want is a big slab of meat to stuff your face with.) Anyway, I've been trying to eat salads more often, especially when I go out to eat. At almost every restaurant though, I find myself being pulled towards the Southwestern type salads. They're just too dang good to resist! So, as we were having friends over for dinner the other night, I thought, "Why not try to recreate a Southwestern salad myself?" And that's exactly what I did.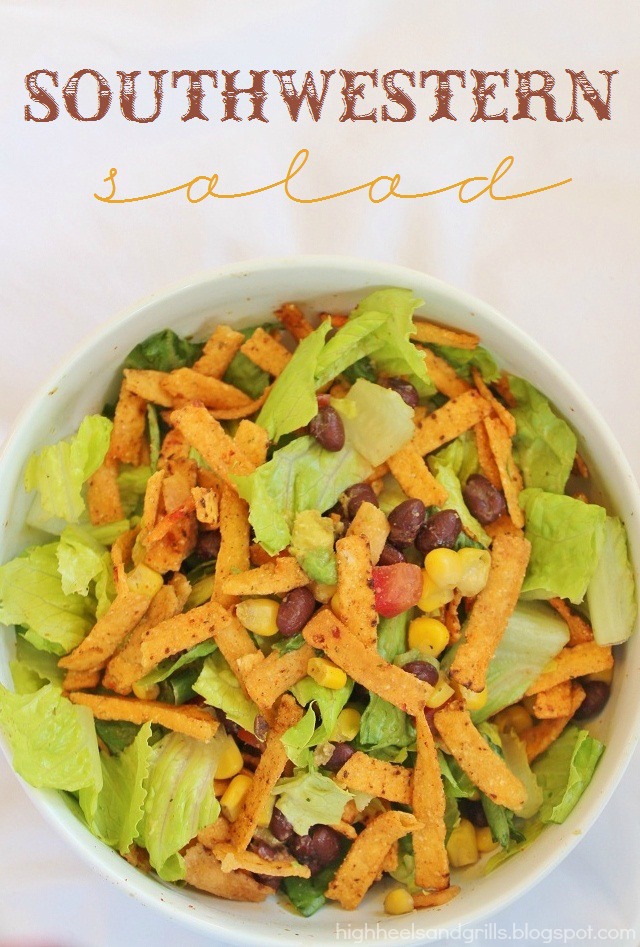 The best thing about salads is there is no cooking or actual work involved really. You just throw everything in a bowl and tadah! Your meal is served. The thing I like most about this particular salad is that the beans provide some protein, so it actually does a pretty good job at filling you up. I love meals like that – healthy and substantial!
Ingredients:
2 heads Romaine lettuce, chopped – more or less depending on how lettucey (yes, that's a word) you want it to be.
1 (15 oz.) can black beans, drained and rinsed
1 (15 oz.) can corn, drained
1 Roma tomato, diced
1 avocado, diced
3 green onions, chopped
Southwestern seasoned tortilla strips (or the original kind is fine, but I strongly recommend the Southwestern kind)
Directions:
Combine all of the ingredients except for the tortilla strips in a bowl and mix together well.
Add the tortilla strips either just before you serve the salad or to each individual serving, so they don't get soggy and gross.
You can top it all off with your favorite kind of dressing, OR stay tuned tomorrow for my favorite Southwestern dressing. It complements this salad perfectly, so you won't want to miss it! Enjoy.