Just as promised, here is my favorite Southwestern Dressing to go with yesterday's Southwestern Salad! This is a Southwestern Ranch Dressing to be exact and it's absolutely divine!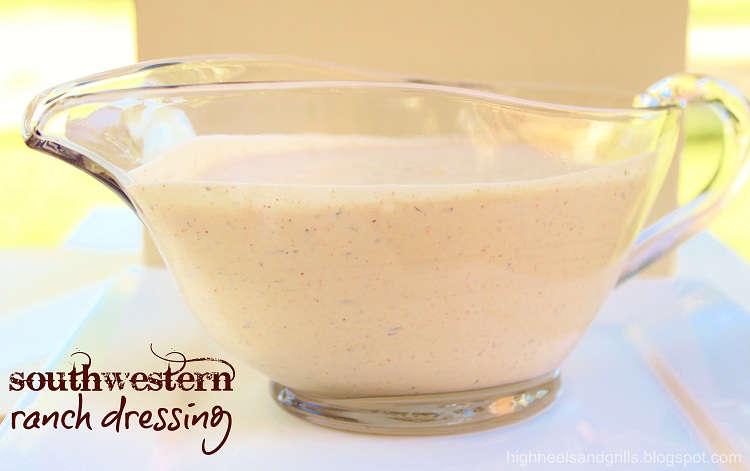 My husband and I are on calorie watch, so we made sure to use low fat mayo and low fat sour cream. I'd never made any kind of dressing before, so I was super nervous as to how it would turn out and if the low fat stuff would ruin the consistency. It actually surprised us both and ended up being way better than we were expecting! (The original recipe I used can be found here.)
Ingredients:
1/2 cup mayonnaise (can be lowfat)
1/2 cup sour cream
1-2 Tbsp. milk – more or less, depending on how thick you like it
2 Tbsp. tomatoes, minced
1 Tbsp. white vinegar
2 tsp. jalapenos, minced
1 Tbsp. onion, minced
1/2 tsp. dried parsley
1/4 tsp. hot sauce
1/4 tsp. salt
1/4 tsp. paprika
1/2 tsp. dried dill weed
1/4 tsp. cayenne pepper
1/2 tsp. ground cumin
1/4 tsp. garlic powder
1/4 tsp. ground black pepper
Mix all ingredients in a bowl and chill in the refrigerator for at least four hours before serving.
You almost have to let the dressing marinade and soak in all of the spices or else it's just going to taste like a big, fat glob of mayo. Been there, done that. Good luck and I'd love to know how you like it!
-Sarah