This Apple Cranberry Feta Pecan Salad has all of the fixings to make a great and tasty salad. Eat it for lunch or use it as a Thanksgiving side dish!

My husband and I have been on the hunt for a delicious salad and this Apple Cranberry Feta Pecan Salad hit the spot for us! You get some protein in from the feta and pecans and the apples and cranberries add a yummy sweetness to offset the saltiness from the cheese. It is super easy to throw together, but doesn't sacrifice in taste!

I didn't realize how much I took salads for granted until I grew up and had to make them myself. My dad always made the most amazing salads, with all the right vegetables and add-ins. Then when I moved out and tried making a great salad on my own, I realized that:
1. I'm not great at knowing what pairs well together and
2. Salad-making is kind of expensive!
It probably helped that my dad always had a huge garden and could go out and pick whatever he was feeling and throw it together, without having to worry about the fact that he only needed two cups of lettuce, but was forced to buy eight in a package. I still stand by the fact that I think salad-making is a talent though.

I'm pretty sure that everybody has eaten an Apple Cranberry Feta Pecan Salad in their life, or at least some variation of it. I have seen strawberries a lot of times instead of cranberries, but since Thanksgiving is coming up, I thought the cranberries would be a festive addition to the holiday table. We will definitely be having this salad at our Thanksgiving dinner and since we are going home for it, maybe I can even convince my dad to make it all for me.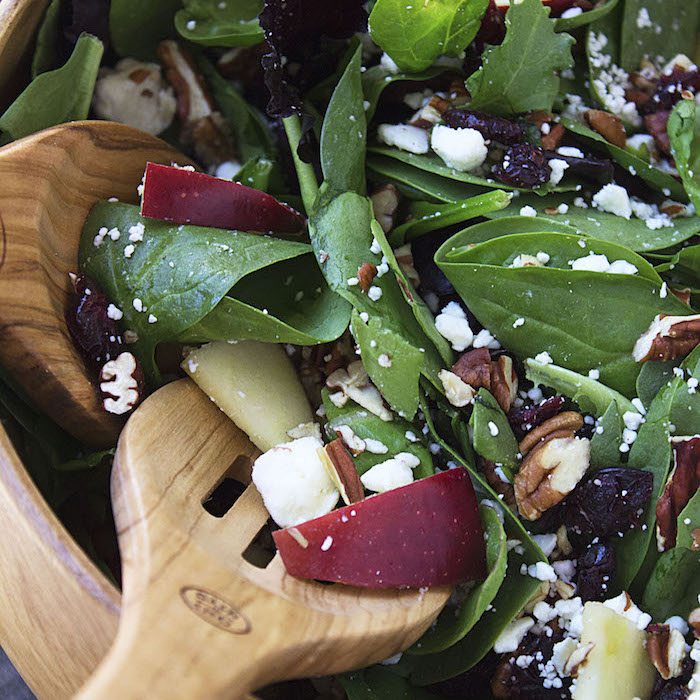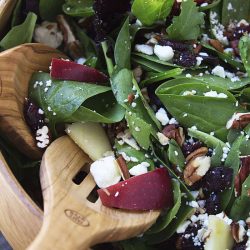 Apple Cranberry Feta Pecan Salad
Ingredients
6

cups

spring mix salad

2

red delicious apples

thinly slice and cut in half

2

Tbsp.

lemon juice

1/3

cup

dried cranberries

1/3

cup

crumbled feta cheese

1

cup

pecans

*See notes for favorite dressing pairing.
Instructions
Place salad in a large bowl.

In a small bowl, toss the apples with the lemon juice.

Sprinkle the apples, cranberries, feta, and pecans over the salad.

Toss with your favorite salad dressing.
-Sarah
You might also like:
Strawberry Balsamic Chicken Salad