Wow, that title is a mouthful. So, I was looking at a local calendar of events the other day and it said that today is National Chocolate Chip Cookie Day! I know this is going to sound bizarre and totally un-girly of me, but I'm honestly not a big chocolate fan. Like at all. Some chocolate I don't mind – give me a Twix bar or a Reeses and I'm perfectly content, but I would rather suck on a lemon than eat a spoonful of chocolate ice cream. My brother is the same way, so growing up, my mom used to make us these White Chocolate Chip Macadamia Nut Cookies to appease the both of us.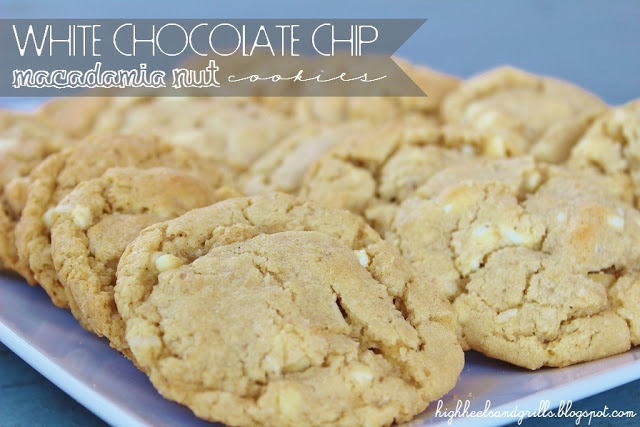 She would actually double the recipe, so it felt like we had cookies coming out of our ears! We would have to use all the counter space in our kitchen just to let them cool. We loved it. Not only are the cookies absolutely delicious, but the cookie dough is incredible too! Seriously – Best. Cookie Dough. Ever. It's addicting.
(Note: High Heels and Grills cannot be held responsible for any weight gained by using the recipe that follows.)
Ingredients:
1 cup butter, softened
1 cup sugar
1 cup brown sugar
2 eggs
1 tsp. vanilla
1/2 tsp. salt
1 tsp. baking powder
1 tsp. baking soda
1-3/4 cups flour
1/2 pkg. vanilla pudding mix, dry (I know, super annoying. Use the other 1/2 to make pudding for youself!)
2-1/2 cups oatmeal, instant or old fashioned
12 oz bag of white chocolate chips
1/3 cup macadamia nuts
Preheat oven to 375 degrees Fahrenheit.
Cream together butter, sugar, and brown sugar until smooth.
Add eggs and vanilla.
In a separate bowl, mix together salt, baking powder, baking soda, flour, and vanilla pudding mix.
Use a food processor and blend oatmeal until somewhat fine – add to dry ingredient mixture.
Stir dry ingredients together and add to wet ingredients – mix well.
Add chocolate chips.
In food processor, chop down macadamia nuts until desired size – add to mixture.
Roll dough into 1 inch balls and place on an ungreased cookie sheet.
Bake for 8-10 minutes.
Let cool and serve.
Or better yet, don't let them cool because they taste fabulous all warm and gooey. Enjoy!
-Sarah
P.S. You have 3 more days to enter our giveaway! Do it here.
Linking up with these blogs: Tater Tots and Jello, Family Ever After, Too Much Time On My Hands, Be Different Act Normal, Funky Junk Interiors, Young and Crafty, Classy Clutter, Serenity You, Polkadot Pretties, Lovely Crafty Home, KB and Whitesnakes, Gingerbread, Chef in Training, Naptime Creations, Ladybug Blessings, Reasons to Skip the Housework, Sugar Bee Crafts, Vintage Wanna Bee, Blessed With Grace, Tip Junkie, Blackberry Vine, Mandy's Recipe Box, Today's Creative Blog, Off the Grid at -30, Love Bakes Good Cakes, Couponing and Cooking, Baked in the South