We had a bridal shower for a good friend last month and among all of the delicious food, these sugar cookie bars were the dessert of choice. I'm pretty sure I ate three of them in one sitting. Don't judge.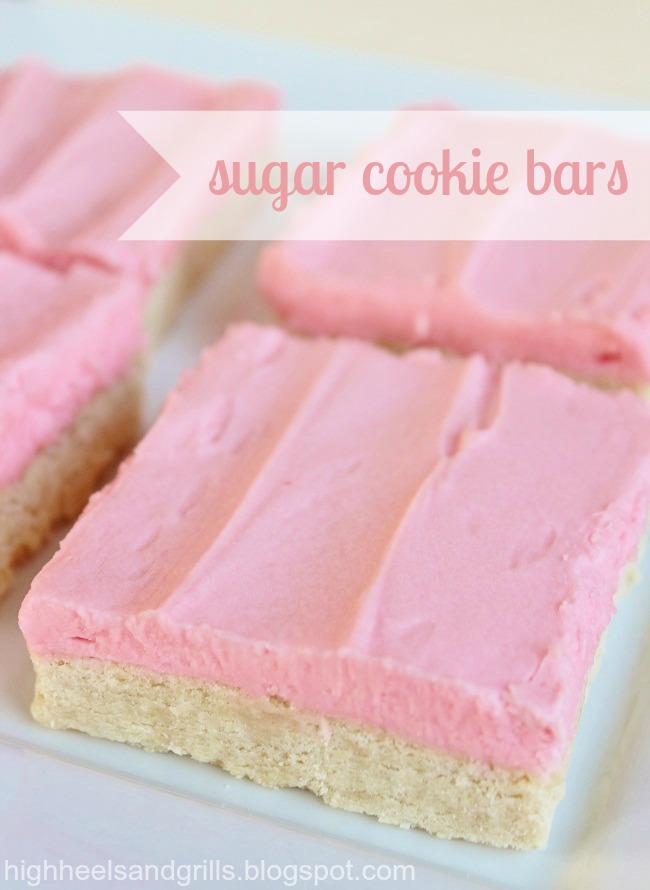 I've seen the recipe for these in a few different places and all of them say the same thing: "If you want the taste of sugar cookies without having to go through the work and mess of rolling them out, then this is the perfect recipe for you!" I kind of thought they were exaggerating a little bit because let's be real – we roll out sugar cookies because it's fun and it's an adventure, not because it's a pain in the rear. Then I got making these and realized that all of those people were actually right. I was completely done in no time and I wasn't a slave to the kitchen, having to roll, cut, frost, and repeat. It was the perfect dessert! (I found this recipe at Cooking Classy)
Ingredients:
Cookies:
2-1/2 cups bread flour (or all-purpose flour is fine)
1/2 tsp. baking powder
1/2 tsp. salt
1/2 cup butter, softened
1 cup granulated sugar
1 egg
1-1/2 Tbsp. sour cream
1 tsp. vanilla extract
Frosting:
1/2 cup butter, softened
4 cups powdered sugar
1/4 cup half and half
1 tsp. vanilla
Pinch of salt
Several drops of food coloring (optional)
COOKIES: Preheat oven to 375 degrees Fahrenheit and grease a 9×13 inch baking dish.
In a medium bowl, combine flour, baking powder, and salt. Set aside.
In a large bowl, cream together butter and sugar until light and fluffy, about 3 minutes. (The longer you beat it, the fluffier your cookies will be.)
Add egg and combine well.
Add sour cream and vanilla and mix until completely blended.
Slowly add the flour mixture and stir until well combined.
Gently press the batter into the greased baking dish and spread out with hands. (If you butter your hands, this will help with the stickiness.)
Bake 17-20 minutes, or until edges become lightly golden.
Set aside to cool completely.
FROSTING: In a medium bowl, cream together butter, powdered sugar, and half and half until light and fluffy.
Stir in vanilla and salt, combine well.
Add food coloring until desired color.
Frost your cooled cookie bars evenly.
Cut into squares and serve.
I have to warn you – these are kind of addicting. Like, scary addicting. But, they honestly might just be worth the few extra pounds. Enjoy!
-Sarah