This root beer chicken is so moist and juicy! It doesn't have an overpowering root beer taste and is so flavorful.
All of my family/friends know that I'm a little crazy for root beer, so this Root Beer Chicken recipe comes as no surprise to them.
I have tried and reviewed over 40 different varieties of root beers and love it! I got to thinking… a lot of people use soda to marinate their meats, so why not use root beer? Well, I looked it up and found out I wasn't necessarily Christopher Columbus in my exploration of the idea; however, I wanted to try my own recipe.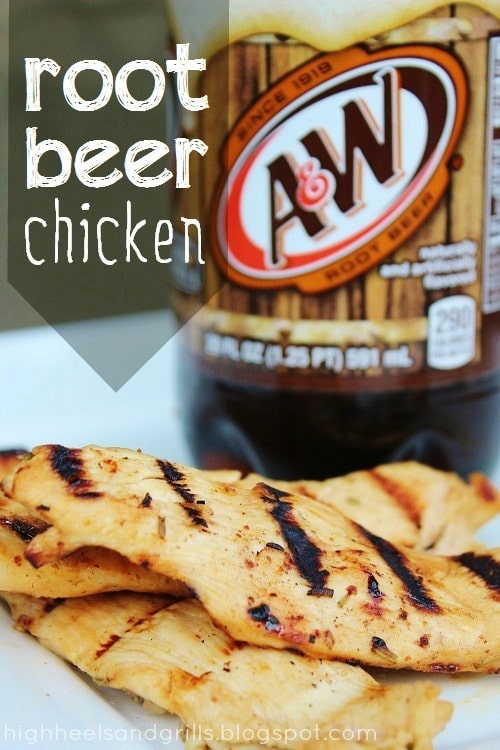 I'll be completely honest. Though I'm a grown man – I have a grown-up job, a great wife, three awesome kids, and I hope to own a lightsaber one day – I also have insecurities about sharing a new recipe with others. It's nerve racking to try your hardest to make something awesome and present it to a crowd of people! You may as well say, "this is the best I can do, if you hate it, then I guess I suck at life…"
Well, we tried this recipe on some guinea pig friends last night. Now, I have some pretty cool friends, and yes they could have just been telling me what I wanted to hear, but every last piece of chicken was devoured. Feel free to adjust the recipe to your liking, but this one is a new hit in our house. Enjoy!
Other dinner recipes you might like:
Teriyaki Beef Skewers – easy and delicious
Chicken and Veggie Skewers – the best chicken marinade from my hometown
Cinnamon Sugar Grilled Peaches – tastes like a full-fledged dessert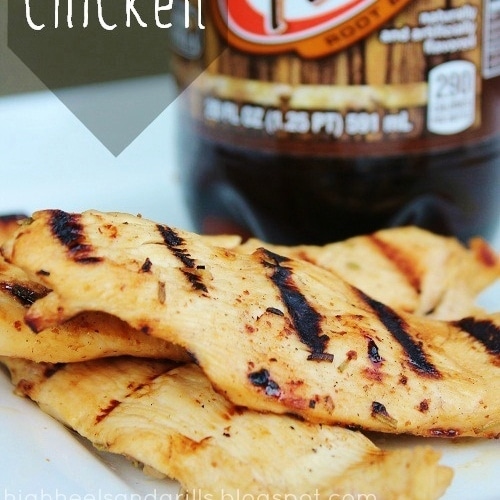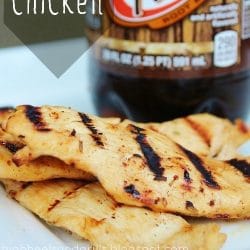 Root Beer Chicken
This root beer chicken is so moist and juicy! It doesn't have an overpowering root beer taste, but is still so flavorful.
Ingredients
4

medium

chicken breasts

2

cups

root beer

2

Tbsp

dijon mustard

2

Tbsp

hot sauce

2

Tbsp

vinegar

2

Tbsp

vegetable oil

1

tsp

of salt

1/2

tsp

rosemary

1/2

tsp

garlic powder
Instructions
Place the chicken in a large Ziploc bag.

Whisk the rest of the ingredients together in a medium bowl.

Pour the marinade over the chicken and seal it tight. Place in the refrigerator and let sit for at least 2 hours. You can leave it in the refrigerator overnight if prepping ahead.

Preheat your grill to 425 degree Fahrenheit.

Cook the chicken for about 5-7 minutes on each side.
-Zach