I've always loved philly cheesesteaks. When I first started college, like a billion years ago, I worked at a sunglasses place in the mall. Feeling rich (after all, I did have a big-time job), I ate in the food court nearly every single day. On the really busy days, I couldn't get too far from my kiosk. The closest food joint? Charley's. Thus, my love for philly cheesesteaks was born.
Now, being older, wiser, and more handsome, I've resorted to making sandwiches myself. This recipe, I completely put together with my very own brain cells, and let's be honest – I had low expectations in the event it completely bombed. Let's just say I was blown away with how awesome it turned out. Additionally, it's so dang easy!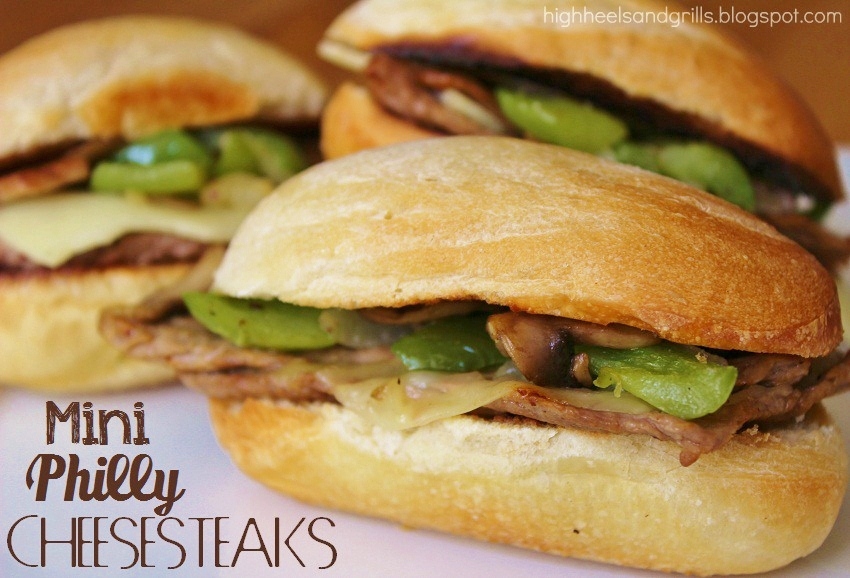 The title of the post is "mini philly cheese steaks" due to some editing by my lovely wife. However, the original title was Philly Cheese Steak Sandwichlets. I guess she figured too many people would be confused by the title… weird… as everyone knows, you simple add "-let" to the end of any noun, and you now have a smaller version of said noun. Examples: babelet (little baby), niblet (a little piece of something), Hamlet (a little ham…), etc. So I introduce to you Philly Cheese Steak Sandwichlets!
Ingredients:
1 Tbsp. butter
1/2 white onion, cut into thin slices
1 clove garlic, minced
1 green bell pepper, sliced
1 lb thinly sliced roast beef
salt and pepper, to taste
mushroom slices (however many and whatever variety you like)
1/2 Tbsp. oil
6 french hard-rolls, cut in half
6 provolone cheese slices
Melt the butter in a skillet on medium heat and add the onion, garlic, and bell pepper – let the veggies simmer in the butter while you work on the meat, stirring occasionally.
If you went to the deli and got super-thin slices of beef, then cut this step out. If you are like me and buy the cheapest stuff, you will probably need to pound the meat into oblivion. (Seriously though, the secret to an awesome philly is super thin beef.) Pound away until meat is about 1/8 inch thick.
Season your beef simply with salt and pepper.If you insist on seasoning it with something more, try a little allspice, it gives it a really nice flavor when all is said and done.
Add the mushrooms to the veggie skillet when the onions and peppers are getting soft. Season with salt and pepper.
Cover the bottom of another skillet with your oil and get it nice and hot. Put a couple of the meat slices in the pan. Since the meat is so thin, only cook for about 30 seconds on each side, that's all it takes, I promise. If you cook it any more, you'll have tough meat and unhappy sandwichlets.
Assemble your cheese-steaks by adding the hot meat to your french rolls, putting the provolone slices right on top of the meat, and the hot veggies on top of that. This will make for a juicy, melty, happy sandwichlet.
Please enjoy your niblet of heaven (see what I did there?). And share this post with anyone and everyone, or Man Mondays will continue to be the least viewed posts on this blog *Zach struggles to hold back tears*. Enjoy!
-Zach