I lived in Texas for a few years growing up and we had these huge pecan trees just down the road from us. I remember walking to them with my little brother and sister and we would pick up pecans off the ground for hours. We felt so proud taking home our spoils. Then one day during recess, I noticed there was a tree at the edge of the playground that looked just like those pecan trees that my brother and sister and I would hang around. My friends and I decided that it would be our job to clean up the fallen pecans around it. We brought nutcrackers to school everyday for weeks and would sit under that tree and eat pecans until we were sick. That's when my love for pecans was born. When I saw the recipe for these pecan balls, I knew I had to try them immediately! So, I did.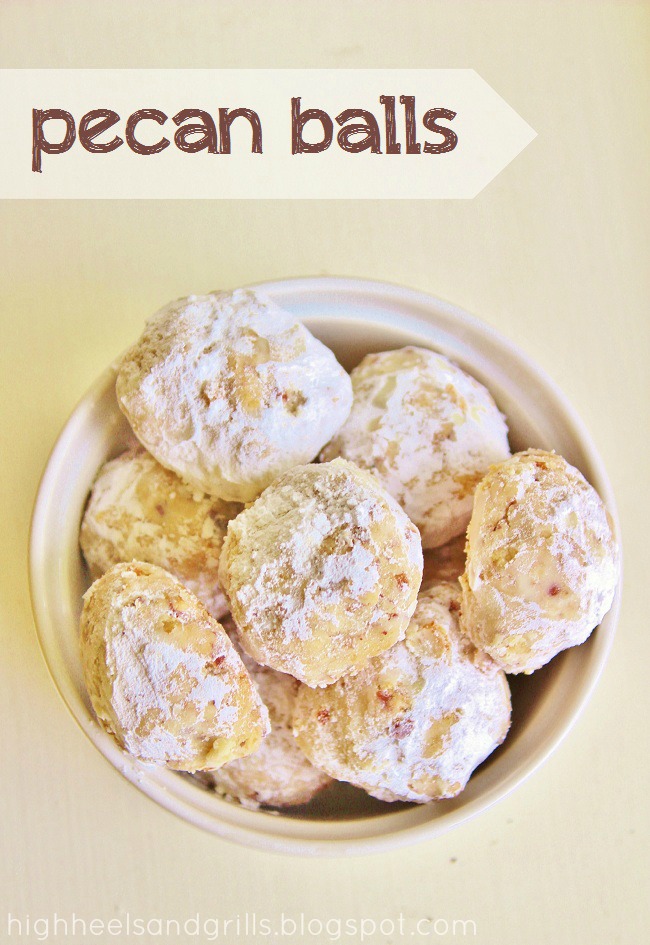 I'll be the first to admit that I am kind of a sugar addict, but I love that these cookies actually aren't as sweet as normal cookies. They're a little more subtle, but still sweet enough to curb your sugar craving. I took them to a church gathering the other night and they were gone in minutes! I'm sure it'll be the same way at your house. (This recipe was adapted from Key Ingredient.)
Ingredients:
1 cup (2 sticks) butter
1/4 cup sugar
1/8 cup brown sugar, packed
1 tsp. vanilla
2 cups flour
2 cups ground pecans
Powdered sugar
Preheat oven to 375 degrees Fahrenheit.
Cream butter, sugar, and brown sugar together until fluffy.
Add vanilla and mix well.
Incorporate flour and pecans into mixture. (Batter will seem separated and crumbly. This is perfect.)
Form into small balls and place on ungreased cookie sheet.
Bake for 10-13 minutes, or until lightly browned.
Let cool and roll in powdered sugar just before serving. (If you don't let them cool, then the powdered sugar will get all melty and gross – just a heads up.)
Easy enough, right? If you don't like pecans, feels free to try other nuts instead. Or leave them out all together! I hope you love these little beauties just as much as we do!
-Sarah