Corned Beef Hash makes for a well-rounded breakfast that is high in protein and tastes delicious!
So I've wanted to do a breakfast post for a while now, but I've struggled coming up with a recipe worthy of MAN Mondays. As much as I love cold cereal, along with most of the dude world, I'm pretty sure most of you know how to pour milk on crispy bits of sugary delight. So, in my quest for a manly breakfast, I came up with this delicious corned beef hash.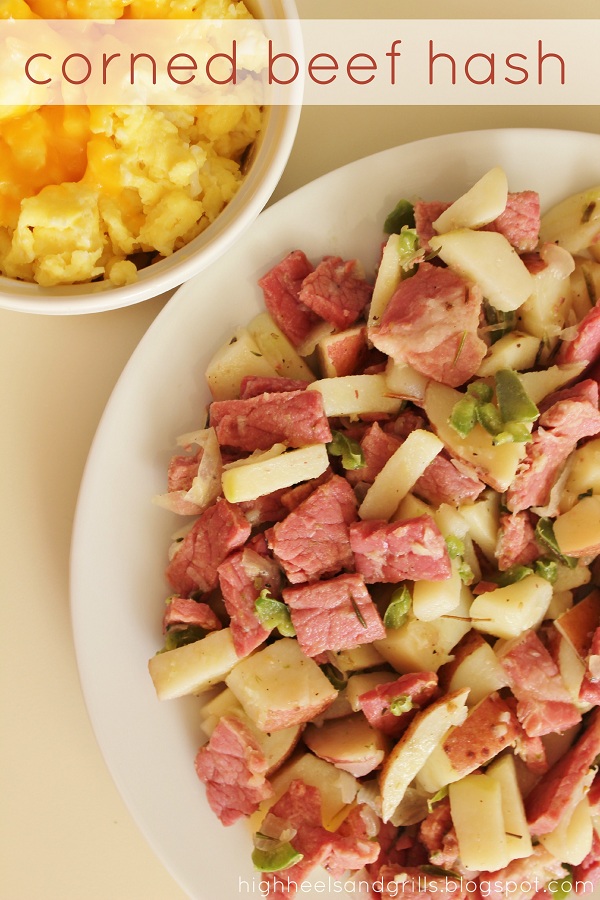 The idea for corned beef hash (to be referred to as CBH from now on… I'm feeling lazy today) came to me as I was reflecting on my childhood days. You see, I was a boy scout in my younger years, and I always loved the breakfasts the scout leaders would come up with on our frequent camping trips. One of those was affectionately known as "monkey brains." Then – I just thought it was delicious… made from scrambled eggs, potatoes, onions, and some variety of meat. Now – I realize it was just a hash with eggs. So here is MY version of monkey-brains: CBH.
Recipes you might also like:
Strawberry Cheesecake Stuffed French Toast – tastes as good as it sounds.
Breakfast Corn Dogs – sausage wrapped in pancakes. Yum.
Breakfast Quesadillas – you'll never want to eat plain eggs again.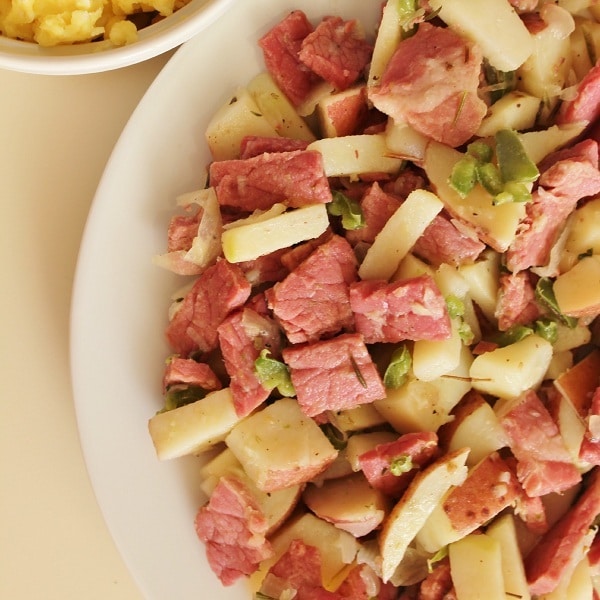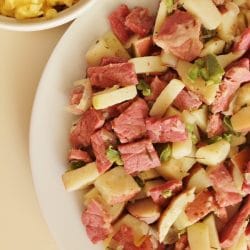 Corned Beef Hash
Corned Beef Hash makes for a well-rounded breakfast that is high in protein and tastes delicious!
Ingredients
1

lb

Corned Beef slices

thick slices from your grocery deli is great

1/2

onion

chopped

1-2

jalepenos

chopped

1

clove

garlic

minced

2

Tbsp

butter

I use salted

8-10

red potatoes

cubed

Salt and pepper

to taste
Instructions
Cube the corned beef and set aside.

Bring a medium pot of water to a boil and add the potatoes. Boil for 6-8 minutes or until fork-tender.

While the potatoes are boiling, melt the butter in a large skillet over medium heat and add the onions, jalepenos, and garlic. Let cook for about 3 minutes.

Drain the potatoes and add them to the skillet with the onion mixture. Add the corned beef as well.

Cook on medium heat for 5-10 minutes, adding salt and pepper to taste.. (The corned beef is already cooked, so really, it just needs to be warmed.

Serve with eggs and any other breakfast ingredient you enjoy.
I hope this CBH recipe establishes a place in your family and helps the hair on your chest grow. Excuse me while I show off my knot-tying and pyrotechnic skills while reminiscing on the good old days… 

Until next week friends!
-Zach
Facebook | Pinterest | Instagram | Twitter | Contact