My favorite part about eating out is most definitely the appetizers. I always fill up on them before I even get my meal, forcing me to have to get a box and take my main course home. Either that or I end up stuffing my face with the both of them anyway and gaining five pounds in one sitting. Whatever, no big deal. I am a die-hard chips and guacamole fan though and have come up with the perfect recipe for homemade guac!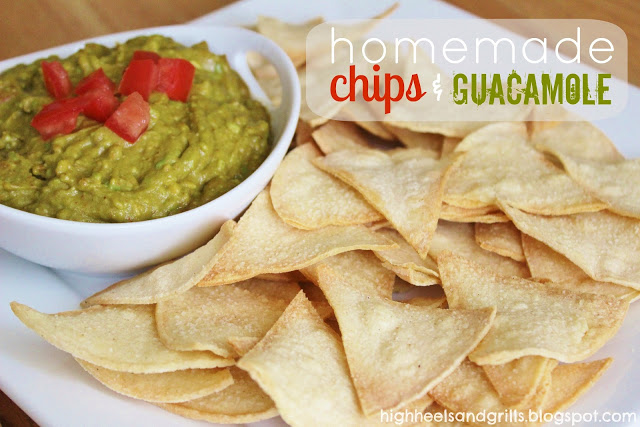 I also had no idea how easy tortilla chips were to make, so I whipped some of those up along with it. I think they actually taste better than the store bought ones. You'll have to let me know what you think!
Tortilla Chips
Ingredients:
12 corn tortillas
2 Tbsp. olive oil
salt
Preheat oven to 350 degrees Farhenheit.
With a pastry brush, lightly brush one side of all the tortillas.
Sprinkle salt to taste. (Or if you want to shake things up a bit, use this seasoning. If I could go back, I would've bought ten bottles of it when we lived in Texas. Love it!)
Use a pizza cutter and cut each tortilla into six equal parts.
Place tortilla slices on a cookie sheet, oil side up, and bake for 10-13 minutes, or until crisp.
2 ripe avocados
2 Tbsp. salsa
1-1/3 Tbsp taco seasoning
1/3 tsp. salt, or to taste. (I'm a salt lover, so you may not need to add salt at all. Just try it and add according to what you see fit.)
Pit and scoop avocados into a small bowl – mash with a fork until well blended.
Add salsa, taco seasoning, and salt – mix well.
Serve with your freshly made chips!
Note: Today is the last day to enter our giveaway!! You don't want to pass up the chance for FREE dinner!
Linking up here: Chef in Training, Naptime Creations, Ladybug Blessings, Reasons to Skip the Housework, Sugar Bee Crafts, Vintage Wanna Bee, Blessed With Grace, Tip Junkie, Blackberry Vine, Mandy's Recipe Box, Today's Creative Blog, Off the Grid at -30, Love Bakes Good Cakes, Couponing and Cooking, Baked in the South, Sew Much Ado, Someday Crafts, Lil' Luna, The King's Court 4, Gingersnap Crafts, Lady Behind the Curtain, Southern Lovely, Uncommon, My Girlish Whims, Bizzy Bakes, Creations By Kara, The NY Melrose Family, DJ's Sugar Shack, Printabelle, Back For Seconds