Our Easy Meal Plan is just that – easy. Find some delicious dinner, breakfast, and dessert recipes that your family is sure to love!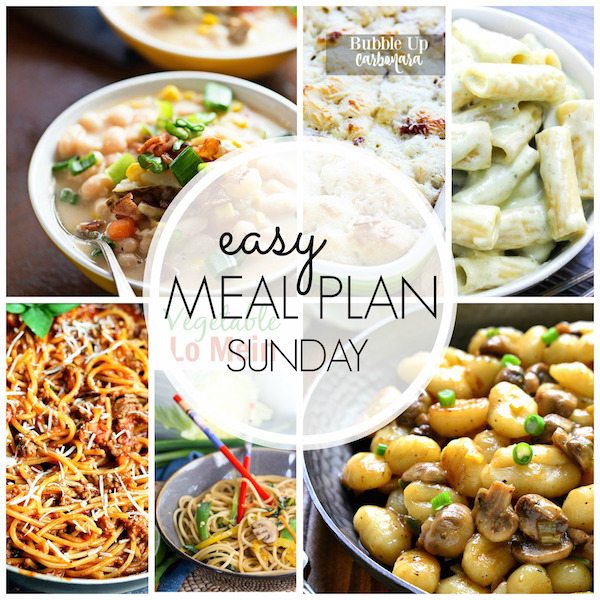 Welcome to Easy Meal Plan #38!
I run a food blog, so it's pretty easy to assume that I love food. You're looking at a food blog right now, so you probably like food too, huh? Isn't it nice that something that is so necessary in our lives can be so enjoyable? I was basically in a total food coma all weekend and I'm not even sad about it. Fort Collins has a charity event every year, where 40+ restaurants lower the prices on their menus, to encourage people to use the money they save to donate to the local food bank. Zach and I got two date nights in a row and visited Fort Collins both times – first for The Melting Pot and second for Rodizio Grill. If you've never been to either of these restaurants, you are really missing out! Half of the fun of The Melting Pot is the experience, like being able to cook your own food! Not to mention, it's super high quality food, so it's absolutely delicious. Rodizio Grill is an all-you-can-eat Brazilian grill, with all the meats you can think of. Oh, and grilled pineapple. Need I say more? It was so good and has me dreaming of going back already.
Anyway, there's nothing like some yummy food talk to get us started on our easy meal plan, right? I hope you find something you love this week!


One Pot Spaghetti with Meat Sauce


DATE NIGHT
-KITCHEN CLOSED-

Sweet Corn and Bean Chowder
Breakfast Corndogs



Bubble Up Carbonara



-Sarah
Facebook | Pinterest | Twitter | Instagram | Contact