These Chocolate Cream Peanut Balls are a fluffy, cream filling, rolled in peanuts. They are light, airy, delicious, and are a great holiday treat!
This post is brought to you in partnership with REAL® Seal. All thoughts and opinions are my own.

Zach here. Let me repeat, Zach here. If I get one more person say, "oh Sarah, this is such a great recipe" or the like, when it was me who posted it, so help me…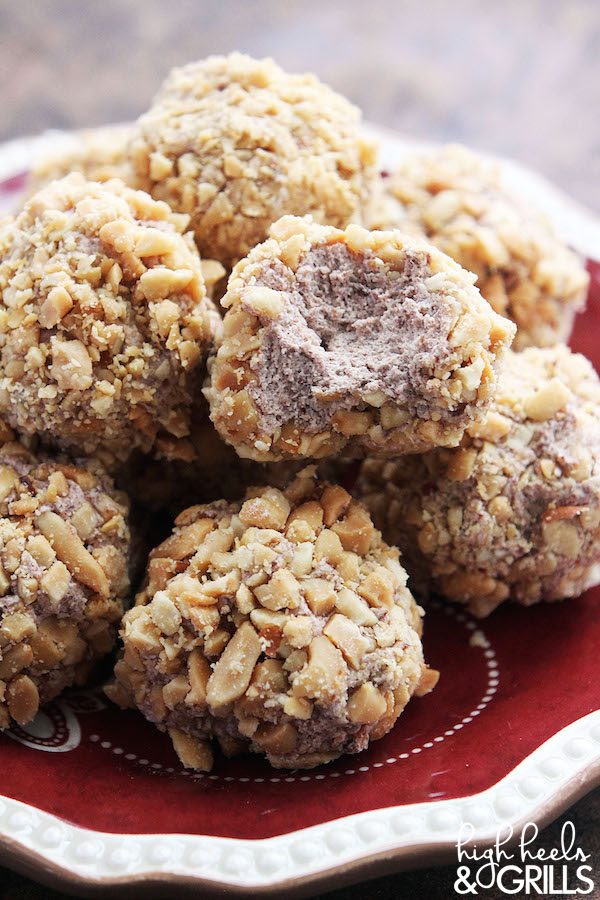 Anyway, it is almost the holiday season and when I think of my family-favorite holiday desserts, the very first thing that comes to my mind are these Chocolate Cream Peanut Balls. Seriously, every single year these are requested at family functions. We call them Pom Poms, or Peanut Pom Poms, but believe me, these put the pom poms you may have heard of to shame!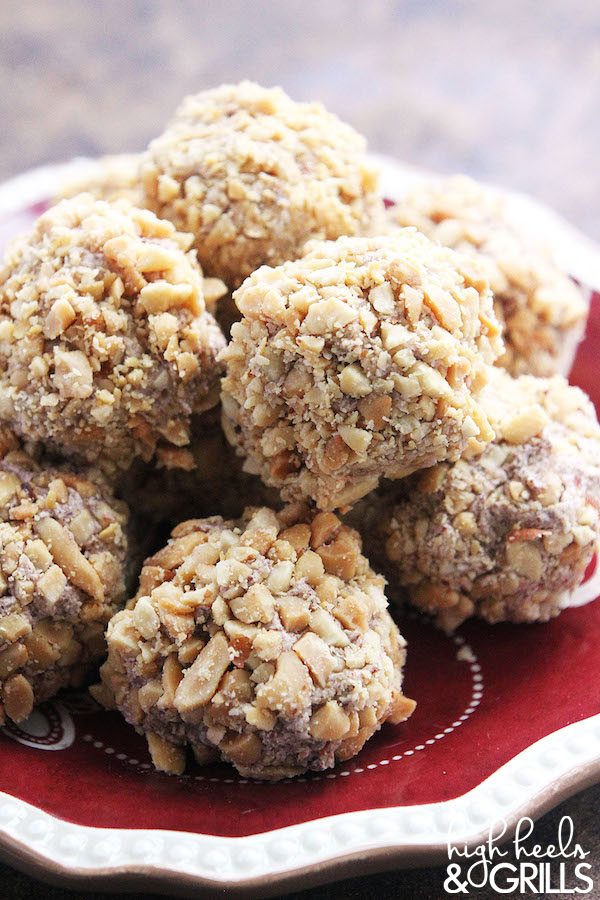 This recipe has been around in my family for decades! In fact, there are even legends that it was first made by my great-grandma, "GG". She was born in 1906… wrap your head around that one. My Grandma Norma then began making these Chocolate Cream Peanut Balls every single holiday season to the delight of her children, grandchildren, and great-grandchildren. In fact, if we had a family motto it would probably go something like this: "Be kind, be happy, love others, and if you don't like Grandma's Pom Poms, you better find a new family."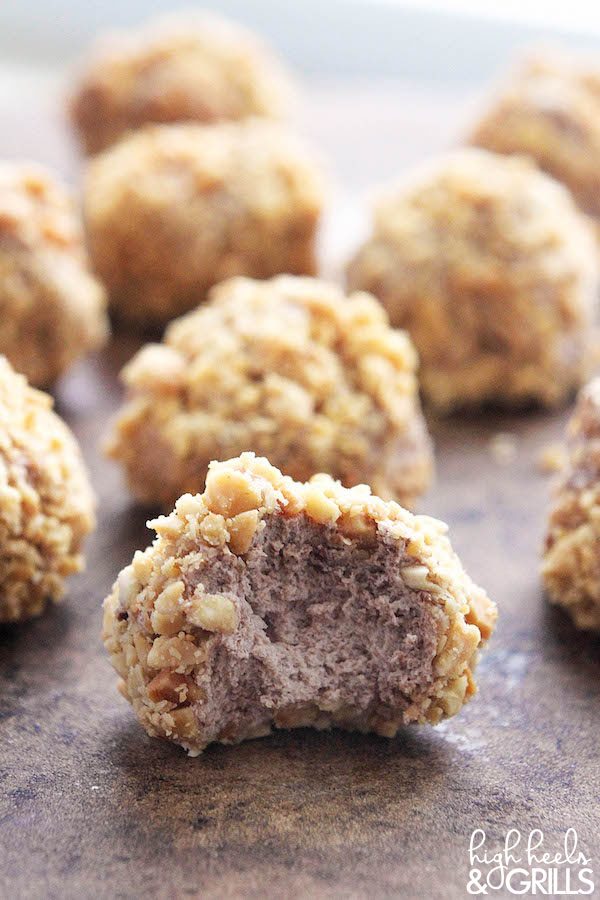 So, with that said, this is a slight variation of the original, very secret recipe. However, this version will still get your taste buds drunk on happiness in your mouth, rest assured. Do you need other recipe ideas for your holiday spread? Check out these favorite recipes from other food blog friends:
Pimiento Cheese by The Suburban Mom
Creamy Pumpkin Soup with Bacon Crumbles by Mom Spark
Sausage, Apple, and Herb Stuffing by Bell'alimento
Twice Baked Potato Casserole by Kristine's Kitchen
If you like these Chocolate Cream Peanut Balls, you might also like:
Strawberry Whipped Cream
3 Ingredients Reese's Peanut Butter Fudge
Chocolate Peanut Butter Balls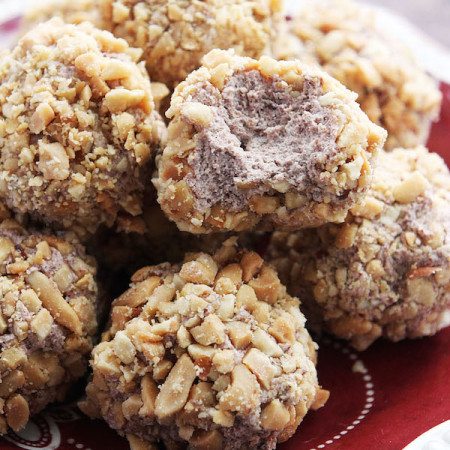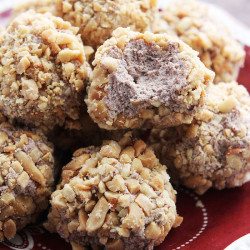 Chocolate Cream Peanut Balls
These Chocolate Cream Peanut Balls are a fluffy, creamy filling, rolled in peanuts. They are light, airy, delicious, and are sure to be loved by everyone!
Ingredients
1

cup

heavy whipping cream

1

tablespoon

sugar

1/2

cup

milk chocolate chips

1

cup

peanuts

finely chopped
Instructions
With an electric mixer, whip the cream and sugar for several minutes, until it becomes whipped cream. Do not overmix, or it will turn into butter.

While the cream is being whipped, place the chocolate in a small bowl and heat for 30 seconds. Stir and heat again in ten second increments, until it is fully melted.

Place the peanuts in a small, bowl.

Whisk your chocolate into to the whipped cream and continue to whisk until fully incorporated.

This next part can be tricky if you don't pay attention... Take two spoons and using one spoon, get about 1 Tablespoon of the chocolate cream out of the bowl. Use the other spoon to shape it into a ball. Then, drop the ball of chocolate cream into the bowl of peanuts.

Pile peanuts on top of the chocolate cream, being careful not to alter the shape too much. Then gently roll the ball around until fully coated with peanuts.

Refrigerate for 1 hour before serving.

These will hold together for a while after being removed from the fridge; however, they are best eaten cold.
These Chocolate Cream Peanut Balls are family tradition GOLD, my friends. So please, for the love of decency, try them and love them… and when you do, just give a shout out to my grandma Norma. I don't care that you don't know her, just do it. In fact, I give you permission to call her your own grandma, which is an honor. Because she's the best grandma out there. You're welcome.
With love,
Zach
Facebook | Pinterest | Twitter | Instagram | Contact