I just need to take a moment and tell you that I have a really great mom (and a great dad too!), but I'm talking about my mom today. Every time we go home, she makes it a point to be sure we have clean sheets, enough snacks to last us our entire trip, and that we are always well fed. I honestly think Zachary's favorite part of visiting my parent's house is breakfast time – particularly, my mom's breakfast pizza.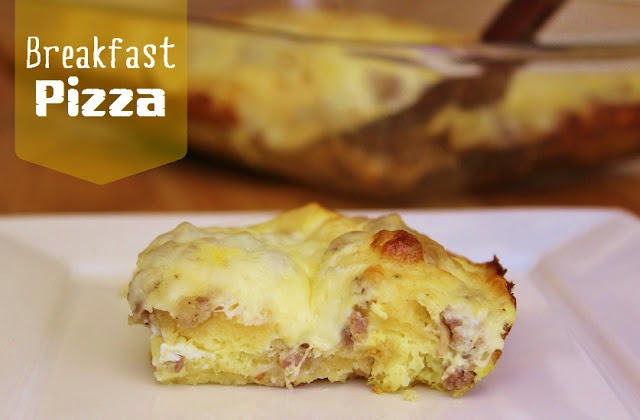 I really can't blame him though. This stuff is the bomb. It's super easy to make too! My best friend and her husband just stayed the night with us and this is what I made them the next morning. You can whip it up in no time!

Breakfast Pizza
Ingredients
1 package of Pilsbury crescent rolls
7 eggs
salt
pepper
½ lb. sausage, cooked
2 cups mozzarella cheese
Instructions
Preheat oven to 375 degrees Fahrenheit.
Spread the crescent rolls on the bottom of a 9x13 inch pan. (Six of them fit just fine for me. The other two, I tore up and piled evenly on top of the other six.)
Whisk the eggs in a bowl and add enough salt and pepper to your liking - pour on top of crescent rolls.
Spread the sausage evenly into the eggs.
Top it off with the mozzarella cheese.
Bake for 20-25 minutes or until edges begin to brown.
Cut into squares and serve.
It got the title of Breakfast PIZZA because we really have seen everything in it from pepperoni to canadian bacon and pineapple. We are just lame and like it plain and simple. Don't be afraid to get creative with it though! Enjoy.
-Sarah