Welcome to this week's Man Monday!
You guys are going to shun me for this next statement… I do NOT love Thanksgiving dinner. *Zach quickly slams the door in the face of a thousand mobsters with pitchforks and torches screaming for his execution* Whoa, whoa, WHOA! Give me a second to explain! So growing up my dad enjoyed turkey dinner so much that we had it at least 2-3 times a month. Let's see, I lived with my parents for 18+ years… so… add in all my Thanksgivings… that's… yeah, more than 75 turkey dinners! I totally got sick of it! Now, granted, I won't turn away any meal and I do actually enjoy turkey dinner to some extent, but it's not my favorite.
With that bomb-shell out of the way, once upon a time I discovered The Pilgrim. What's The Pilgrim, you ask? The Pilgrim is a wonderful sandwich made by Great Harvest in Logan, Utah. The Pilgrim somehow manages to pack all of the flavors of Thanksgiving into ONE sandwich. It was a perfect compromise for my lack of enthusiasm for turkey dinners! I know I enjoy sandwiches… I know I like turkey… I love stuffing… hmm… let's just stick it all into a sandwich! For whatever reason, I absolutely LOVE this sandwich and could eat it every single day of the week (yes, yes, even though I'm not huge on turkey dinner). You can find the ingredients of
the original here
.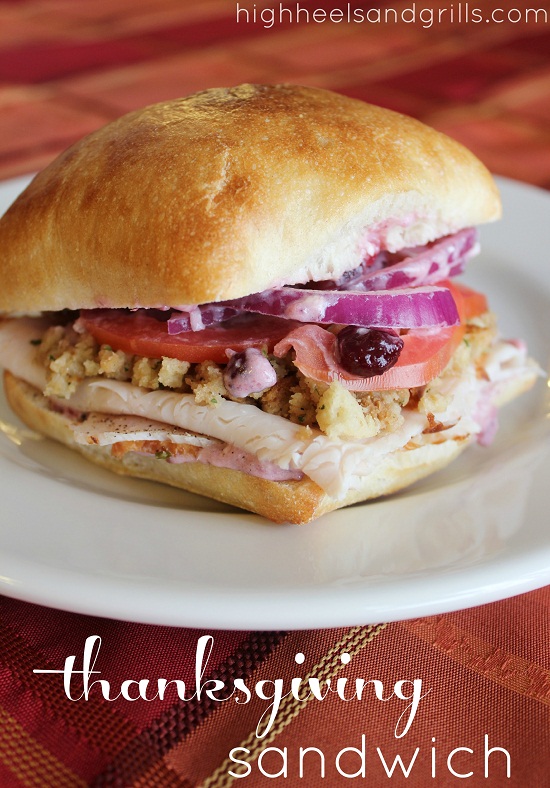 Now, they have some fantastic ingredients that I can't quite replicate, but I did my best to clone the sandwich with stuff you can get anywhere (especially since I now live 435 miles away and can't buy that awesome bread). This recipe should make around 6 sandwiches. Here it is!
4 oz cream cheese
1/2 cup cranberry sauce
2 tablespoons spicy mustard
sandwich bread… (I used ciabatta rolls, but you can use any good, moist bread)
1 lb of sliced turkey (I like to get mine fresh from the deli, not the packaged stuff)
1 ripe tomato, sliced
1/2 red onion, sliced
1 package turkey flavored stuffing, prepared
Prepare the special-turkey-dinner-sandwich-sauce by combining the cream cheese (easiest if softened via microwave), cranberry sauce, and spicy mustard. Mix together thoroughly.
Next, simply coat each slice of bread with about a tablespoon of the sauce and assemble your Thanksgiving sandwich with the remaining ingredients to your desire. You will probably end up having way more stuffing than you need, which is great for leftovers!
*Zach yells out his front window* Now, y'all can get off my porch! Seriously, can't a guy express an opinion these days without such backlash!? Really though, this sandwich is fantastic, no-joke. It's a huge hit in my family. And if you so happen to live near, or will find yourself near the Great Harvest restaurant in Logan, Utah, go get yourself The Pilgrim. You may just get addicted. You're welcome.
-Zach