Fun fact about me: I hate tomatoes. I try them every year and each time I do, I walk away slightly disappointed that they are still just as disgusting as the year before. There is one way I will eat tomatoes in a heartbeat though – on a delicious slice of Margherita Pizza.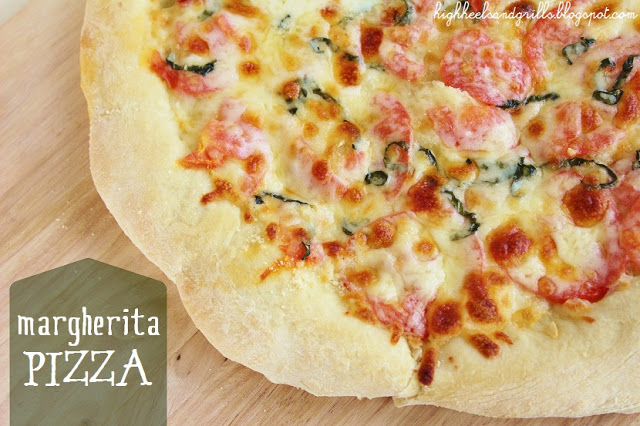 You would never think a pizza with no marinara sauce could be so good, but trust me – this pizza will change your life!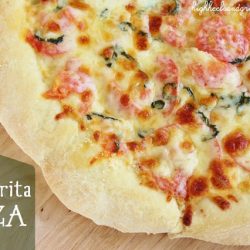 Margherita Pizza
Ingredients
For the pizza dough:

1-1/2

cup

hot water

as hot as you can run it from the tap, but NOT BOILING or you will kill the yeast

1-1/2

tsp.

dry active yeast

1

Tbsp.

olive oil

1

Tbsp.

salt

1

Tbsp.

sugar

3

cups

bread flour

or all-purpose can be substituted

non-stick cooking spray

olive oil

For the toppings:

olive oil

4

cloves

sliced garlic

4

roma tomatoes

2

cups

grated mozzarella

1/2

cup

grated parmesan

6

fresh basil leaves
Instructions
Sprinkle the yeast over the water and let sit for five minutes until yeast blooms.

Add the olive oil, sugar, and salt to the yeast and stir.

In a separate, medium bowl, measure out flour and add yeast mixture to it - stir until well combined. (The dough may appear very gooey, but this is completely normal. Don't add flour because it makes for a much more tender dough.)

Spray a separate bowl with cooking spray and place dough in it - cover and set aside in a warm location for one hour. (Warm location suggestions: above the refrigerator, above the cabinets, or on the stove as it preheats.)

After dough is done rising, preheat oven to 500 degrees Fahrenheit.

Roll out half of the dough onto a flat surface to about 3/4 inch thick. (Use some extra flour if necessary, to keep from sticking)

Place rolled out dough onto a pizza stone or pizza pan.

With a pastry brush, spread a thin layer of olive oil over pizza.

Thinly slice two garlic cloves and spread evenly over pizza.

THINLY slice 2 tomatoes (the thinner they are, the less soggy your pizza will be) and spread evenly over pizza.

In a small bowl, combine 3/4 cup mozzarella and 1/4 cup parmesan cheese and spread HALF of it over pizza.

Slice basil into thin strips and spread evenly over pizza.

Finish it off with the rest of the cheese mixture.

Cook in oven on the lowest rack for 11-13 minutes. (Make sure to keep a close eye on it during the last couple minutes so the cheese doesn't burn.)

Repeat for other half of dough.
IMPORTANT NOTE: This recipe is for 2 pizzas. If you don't feel up to making two, (which I highly suggest you do, because they're that good and you're going to want leftovers) then just half it.
Time to enjoy a taste of traditional Italy. I hope you enjoy this little slice of heaven!
-Sarah
Linking up here: Chef in Training, Naptime Creations, Ladybug Blessings, Reasons to Skip the Housework, Sugar Bee Crafts, Vintage Wanna Bee, Blessed With Grace, Tip Junkie, Blackberry Vine,  Mandy's Recipe Box, Today's Creative Blog, Off the Grid at -30, Love Bakes Good Cakes, Couponing and Cooking, Baked in the South