Does anyone else love the Knotts Berry Farm cookies as much as I do? I would have to say that they are some of the best store bought cookies on the market. The only problem is that there are never as many as you want in a package. I feel like I'm always reaching for more, just as they're gone. Well, good news – I'm bringing you an amazing Knotts Berry Farm Cookie knockoff, so you can enjoy them whenever you want!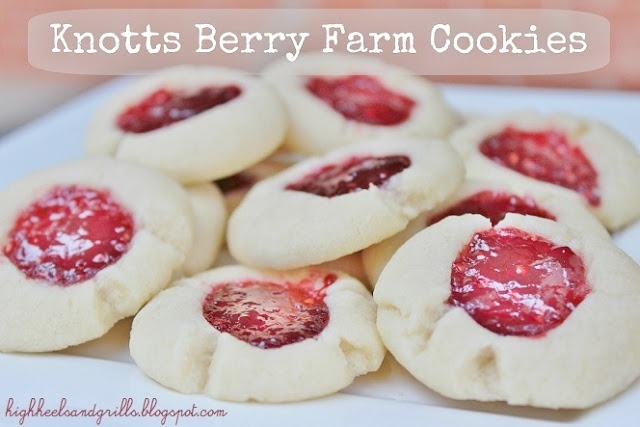 Be careful though, these are dangerously delicious – as in I ate 6, (yes 6) of them within a 20 minute period. This was after I burned my tongue because I was too impatient to wait for them to cool. I found this recipe in the I Do Cookbook and it's to die for!
Knotts Berry Farm Cookies
Ingredients
½ cup butter, softened
⅓ cup sugar
¼ tsp. almond extract
1 cup bread flour (Or all-purpose works just as well. Bread flour will just make your cookies more chewy.)
¼ cup raspberry jam (Or other jam of your liking)
Instructions
Preheat oven to 350 degrees Fahrenheit.
Combine butter, sugar, almond extract, and flour in mixer bowl.
Mix until well blended and forms a ball. (Mine was kind of dry and crumbly, so I added about a Tbsp. of milk.)
Roll into ¾ inch balls and place on an ungreased cookie sheet.
Make an indentation on top of each cookie and fill with ½ tsp. of jam.
Bake 9 minutes.
Let cool and enjoy.
The recipe says it should make about 3 and 1/2 dozen cookies, but I found that it only made a little over 2 dozen. So if you feel like you want just a few more, go ahead and double the recipe. Don't worry, I won't judge. 🙂