My soccer coach from high school had Zachary and I over for dinner when we were in town visiting last year and she whipped up this Italian Crockpot Chicken for us. We ranted and raved about how good it was and that we needed the recipe for it ASAP. She humbly told us it was no big deal and that it was the easiest dinner ever. While she was right – it is very easy – it's amazing to me how much flavor is packed into it!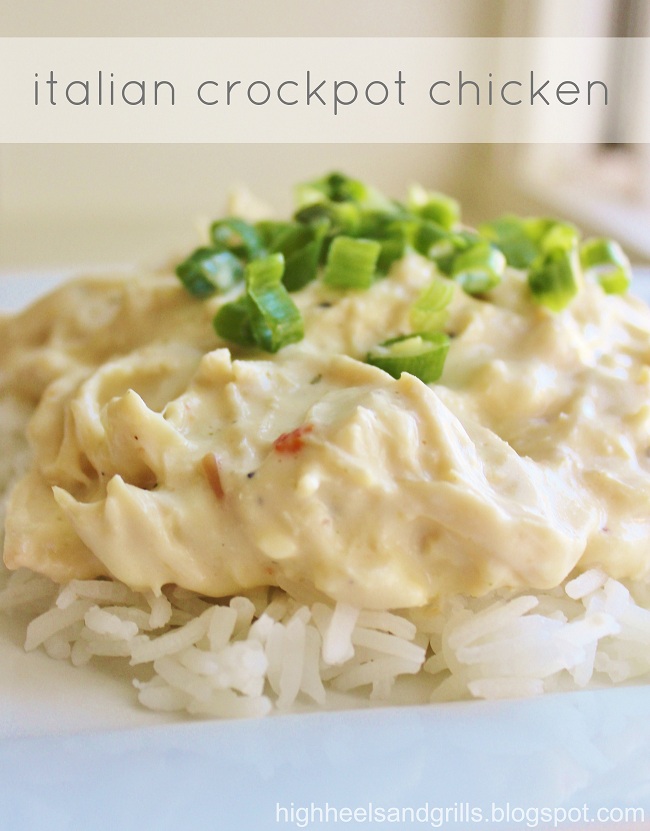 I'm pretty sure we ate this every day for a week at one point. I have to be completely honest and tell ya that I got a tiny bit sick of it because we were having it so much. We had it for dinner this last week though, and I fell in love with it all over again – love it!
Ingredients:
4 chicken breasts
1 Italian dressing seasoning packet
1/2 cup water
1 (8 oz) block of cream cheese
1 can cream of chicken soup
2/3 cup water
Enough rice to feed whoever is eating.
Place chicken in a crockpot and season evenly with Italian dressing.
Add the water and let cook on low for at least four hours.
When chicken is cooked all the way through, shred with a fork or in a mixer – just something to get it shredded.
Place back in crockpot and add cream cheese, chicken soup, and water.
Mix thoroughly and let sit for another 30 minutes.
Serve over rice.
This saves as really good leftovers too! I can't even count the number of times Zachary has taken it to work the next day. It makes things so convenient!