Need some healthy food options for your new year's goals? Then these 25+ Healthy Recipes are just for you! There are dinners, drinks, desserts, and more to help keep you on track!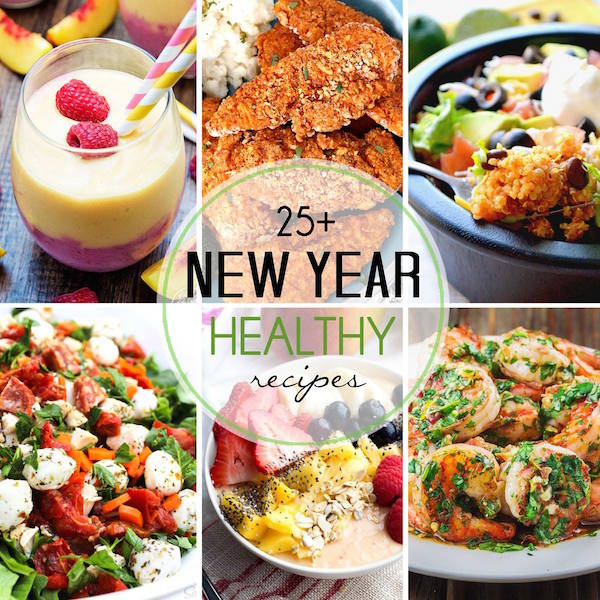 I am always on the lookout for yummy, healthy recipes. Not just to keep my diet clean, but because I feel better about myself when I eat better and I feel like a rockstar mom when I can feed my kid something healthy that is also delicious.
All of these healthy recipe ideas are from bloggers that you know and love. They have been tested and are known to be tried and true recipes that will help you will help you with your goals, but don't sacrifice in flavor. That Skinny Orange Dreamsicle Cake down there was made by yours truly and I'm not lying when I say that you can hardly even tell that it's low-calorie. I crave that cake so often and you won't regret making it, even when trying to eat healthier.
I hope you enjoy all of these healthy recipes and that this new year is just as good to you as the last! {Or better.}
Jacked Up Monterey Chicken Salad

3-Ingredient No-Bake Energy Bars

Mini Salmon Asparagus Frittatas

Cinnamon Raisin Energy Bites


Tabbouleh

Skinny Bruschetta Chicken


Hearts of Palm Artichoke Avocado Butter Lettuce Salad

Red Potato, Kale, Mushroom and Feta Frittata


Quinoa Corn Chowder

Charred Kale Caesar Salad with Honey Chipotle Chicken


Butternut Spinach Multi-Grain Medley
Spaghetti Squash Bolognese


Vegan Sloppy Black Eye Peas

Cauliflower and Quinoa White Chili


Cleansing Tri-Color Quinoa Salad

Lightened Up Chicken Fingers and Dipping Sauce


Avocado Chicken Salad

Shrimp & Garlic Rice Stuffed Peppers


One Pan Tuscan Pork Chops


Grilled Shrimp Recipe with Roasted Garlic Cilantro Sauce

Turkey Stuffed Peppers


Mexican Chicken Soup


Tropical Smoothie Bowl


Quinoa Taco Bowls


-Sarah
Facebook | Pinterest | Twitter | Instagram | Contact