These garlic cheesesticks are the best side dish to any Italian meal! They are cheesy, flavorful, and super easy to make.
My very first job that I ever had was as a lifeguard at a community college in my hometown. I did it for two summers and was just about to move into doing it during the school year when I got into a bad car accident and broke my collar bone. For some reason, my boss didn't like the idea of having a lifeguard with a broken collar bone…weird, I know. He told me that I could come back when I was healed up, but I decided to start working with my best friend instead – at a pizza place. I actually loved working there. Who knew that tossing and flipping dough could be so much fun?? The best food in that place was hands down their garlic cheesesticks. Although I'm sure mine don't taste near as good as theirs did, I still thoroughly enjoy them!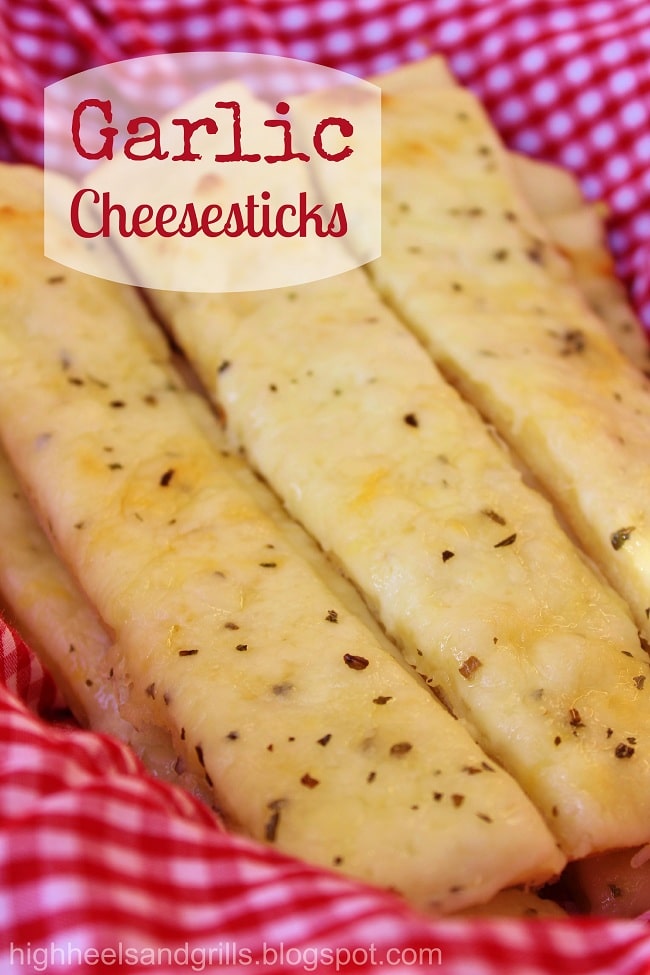 This recipe isn't anything fancy. It's just plain and simple, but it definitely gets the job done. We used the same dough that we made for our Margherita Pizza. Heck, maybe you should just have a meal out of this and make both things! (This recipe will make one large thing of cheesesticks or two small ones.)
Other recipes you might like:
BBQ Chicken Pizza – a favorite in our house
Olive Garden Breadsticks – tastes just like the real thing
Zuppa Toscana – an easy, filling, tasty soup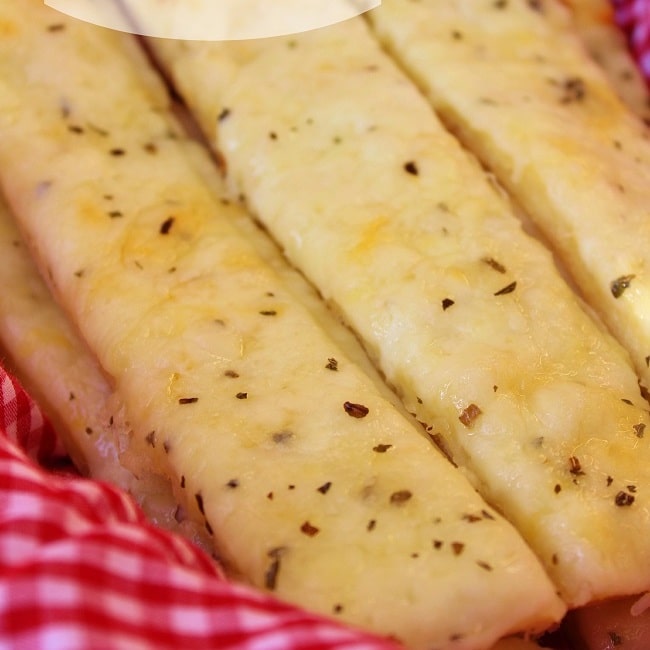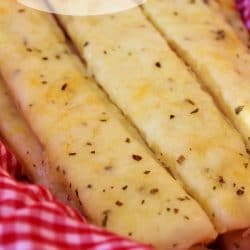 Garlic Cheesesticks
These garlic cheesesticks are the best side dish to any Italian meal! They are cheesy, flavorful, and super easy to make.
Resting Time
1
hour
5
minutes
Total Time
1
hour
26
minutes
Ingredients
3/4

cup

hot water

110-115℉

3/4

tsp.

dry active yeast

1/2

Tbsp

olive oil

1

Tbsp

salt

separated

1/2

Tbsp

white sugar

1 & 1/2

cups

all-purpose flour

2

Tbsp.

butter

softened

2

cloves

garlic

minced

1 & 1/4

cups

mozzarella cheese

shredded
Instructions
Sprinkle the yeast over the hot water and let sit for five minutes until yeast blooms.

Add the olive oil, sugar, and 1/2 Tbsp. salt to the yeast and stir.

In a separate bowl, measure out the flour and add the yeast mixture to it, stirring until well combined. (At this point, the dough may seem sticky, but don't worry, this is exactly how it's supposed to be.)

Spray a separate bowl with cooking spray and place the dough in it.

Cover the dough and let sit for about an hour, until doubled in size.

Punch down the dough and turn it out onto a floured surface. Roll it out until it is about 1/2 inch thick. (More or less, depending on how you like it.)

In a small bowl, combine the butter, garlic, and salt. Spread mixture over pizza dough with a pastry brush.

Top with the cheese and bake for 9-12 minutes.