Our Easy Meal Plan is just that. Easy. And delicious. It makes dinner a breeze and also adds in a couple of desserts and a breakfast!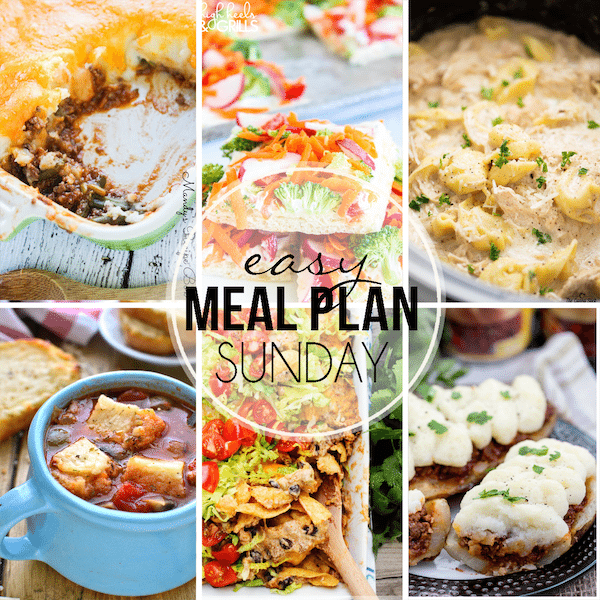 Welcome to Easy Meal Plan #35!
Someone save me. My two year old hates sleeping and it's making me insane! It's especially stressing me out since baby number two will be here in a couple of months and I won't be able to handle getting up in the night for both of them. We have tried ignoring her, cutting off water after a certain time so she doesn't need to pee, giving her stuffed animals, a night light, etc. I seriously feel like we have tried it all and nothing is working. I feel so defeated. So, I'm calling on all of you moms out there. Tell me what has worked for you because I will try anything at this point!
In other news, here is some delicious food that you should probably make. You're welcome. Say hello to this week's easy meal plan!

Shepherd's Pie

Slow Cooker Chicken Alfredo Tortellini

Sloppy Joe Twice Baked Potatoes

Italian Sausage Pizza Soup

DATE NIGHT
-KITCHEN CLOSED-

Easy Beef Enchilada Bake
Vanilla Cake Donuts with Strawberry Glaze


Ranch Cream Cheese Vegetable Pizza

Milky Way Cheesecake Brownies
Cinnamon Sugar Blondies
-Sarah
Facebook | Pinterest | Twitter | Instagram | Contact