Before we get into things, I should probably warn you that this is not the recipe for the burritos from the Chipotle restaurant. It may look like I was trying to be deceitful, but how else do you title a bean burrito with chipotle seasoning in it?! I hope this doesn't deter you from staying though, because seriously, this recipe is incredible.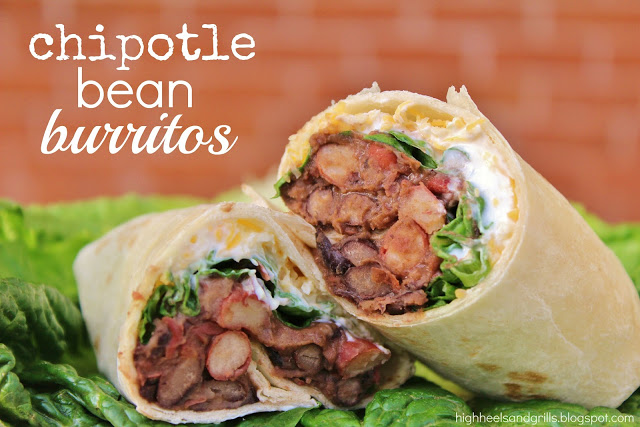 Zachary is a chipotle fanatic, so as I was browsing Pinterest last year (of course) and saw this, I knew he would love it! It turns out that I love it even more than he does! (Recipe from Cooking Light.)
Ingredients:
1 Tbsp. canola oil
1 garlic clove, mined
1/2 tsp. chipotle chile powder
1/4 tsp. salt
1/3 cup water
1 (15 oz.) can black beans, drained
1 (15 oz) can kidney beans, drained
3 Tbsp. salsa
6-8 flour tortillas (Or for the calorie-conscious folks, use lettuce leaves and make them into lettuce wraps – one of our personal favs.)
Optional toppings: cheese, tomato, lettuce, green onions, sour cream (and anything else you might like on your burrito)
Heat oil in a large, nonstick skillet over medium heat.
Add garlic and cook one minute, stirring frequently.
Stir in chile powder and salt – cook 30 seconds, stirring constantly.
Stir in water and beans – bring to boil.
Reduce heat and simmer 10 minutes or until thickened.
Remove from heat and stir in salsa.
Partially mash beans with a fork.
Warm tortillas according to package directions.
Spoon bean mixture into the center of each tortilla and top with your favorite toppings – roll up and enjoy.
I like making this for guests because 1 – it's delicious and 2 – it satisfies those who might even be vegetarian. That's a win-win situation in my book!
-Sarah