These Chai Pumpkin Kiss Cookies have all the flavors of fall in one yummy bite! The pumpkin kisses add the perfect touch.
Zachary and I are going out of town for a week, so while we are gone, we were able to talk some lovely bloggers into sharing their favorite recipes with you! They all look divine and I want to make each one of them right now. First up is Autumn from The Art of Beauty with these chai pumpkin kiss cookies. Mmm! Take it away Autumn!
It is getting to be the time of year when we crave the fall spices and warm goodness of our favorite baked goods. This is one of my favorite cookies that many people have done and redone. Here's my take on this delicious fall time favorite.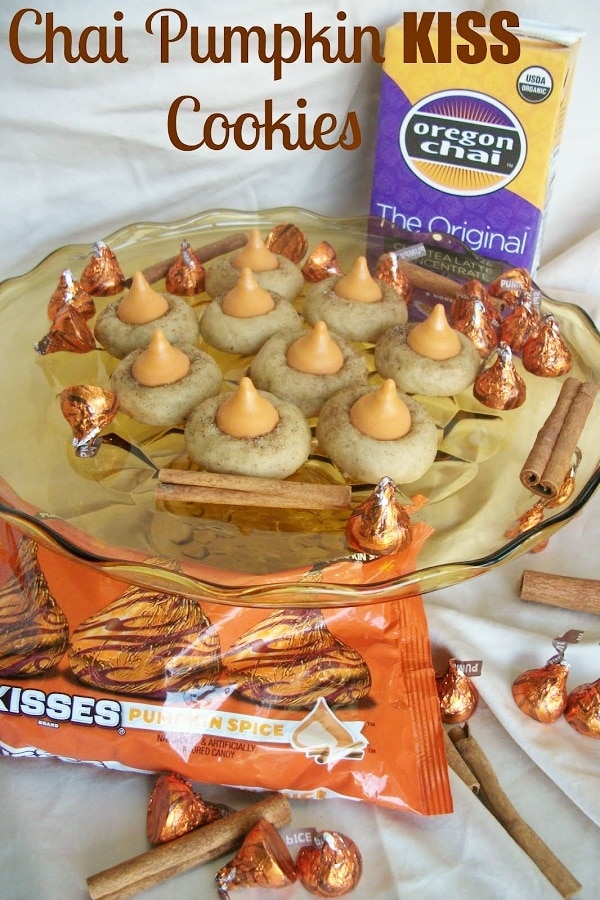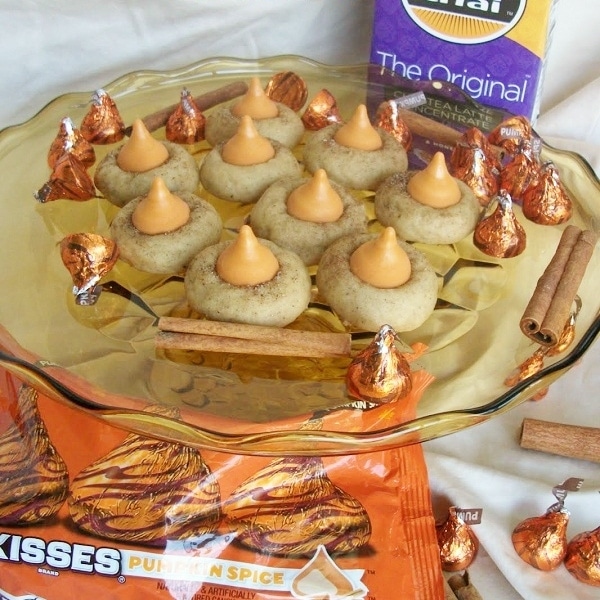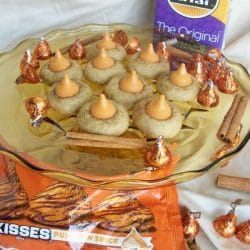 Chai Pumpkin Kiss Cookies
These Chai Pumpkin Kiss Cookies have all the flavors of fall in one yummy bite!
Ingredients
Cookies
1/2

cup

butter, softened

I use salted

1/2

cup + 1 tsp.

granulated sugar

1/3

cup

chai concentrate

I used Oregon Chai Original

1

large

egg

1

tsp.

vanilla extract

2

cups

all-purpose flour

1/2

tsp.

baking soda

1

tsp.

cream of tarter

1/4

tsp.

salt

1

Tbs. + 1 tsp.

Chai spice mix

below

1

bag

Pumpkin Spice Hershey's Kisses
Chai Spice Mix
1-1/2

tsp.

ground cardamom

1-1/2

tsp.

ground cinnamon

1/2

tsp.

ground ginger

1/4

tsp.

ground cloves

1/4

tsp.

ground nutmeg
Instructions
Cream together butter and sugar in a large bowl until smooth.  Add egg, chai concentrate and vanilla. In separate bowl mix together flour, baking soda, cream of tarter, salt and 1 Tbs. chai spice mix.

Combine wet and dry ingredients, cover with plastic wrap and refrigerate for at least 1 hour to let dough chill enough to work with.

Preheat oven to 325 degrees. Line baking sheet with parchment paper. Using your hands, roll dough into 1 inch round balls and place on parchment paper. Lightly sprinkle dough with Chai Spice/Sugar mixture before baking.

Bake cookies for 10-12 minutes. Remove cookies and place one pumpkin kiss in the center of each cookie. Don't touch cookies until completely cooled or kisses will puddle. Enjoy!
Thank you so much for sharing this delicious looking recipe with us Autumn! For those of you that aren't familiar with her blog, you've got to visit it. Right now. It's fantastic!
 She is an aesthetician of 10 years and has so many tips and tricks on beauty, skin, makeup, and health. She's pretty new to blog land as well, so be sure to give her some love and follow her on GFC, follow her on
Pinterest
, and like her on
Facebook
! You guys are great.
-Sarah