These are the best Thanksgiving side dishes on the Internet! Every single one of these classics will help to make your Thanksgiving dinner perfect.

Turkey is great for Thanksgiving, but the side dishes are what makes it for me. I am more traditional though and like to enjoy the typical classics for Thanksgiving dinner. That's why I consider all of these sides to be the best Thanksgiving side dishes that there are! With a few exceptions to the "classic" part, that is. Basically, if I were to show up at your Thanksgiving dinner and all of these side dishes were there, I would be the happiest girl in the world.
I am seriously so excited for Thanksgiving this year. We are visiting our families in Utah and it will be the first time we have been back since we moved! Considering we used to be just 6 hours from home, being 21 hours away has been quite the adjustment. I am so excited to see everyone and to eat my weight in delicious food! I am hoping to include a few or more of these recipes!
White Chocolate Cranberries – I can't even tell you how amazing these babies are. The sweet from the chocolate offsets the tart from the cranberries. Every time you bite into them, they give a pop and they become so addicting!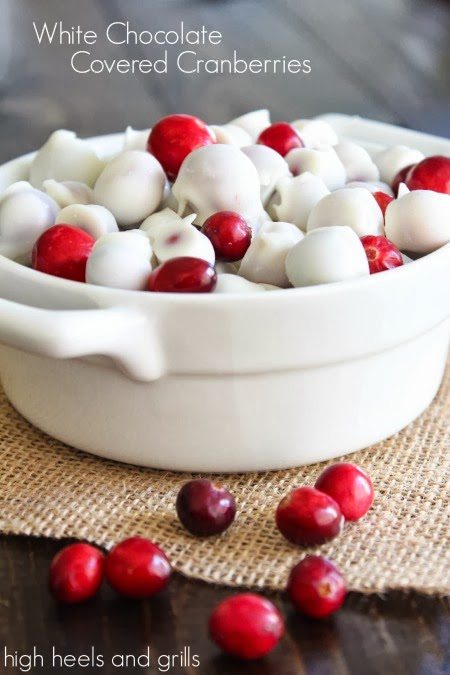 Brie Apple Honey Crostini – If it has Brie in it, I know I'm going to love it. But add sweet honey and apples to salty Brie and put it on top of chewy crostini? I am so sold.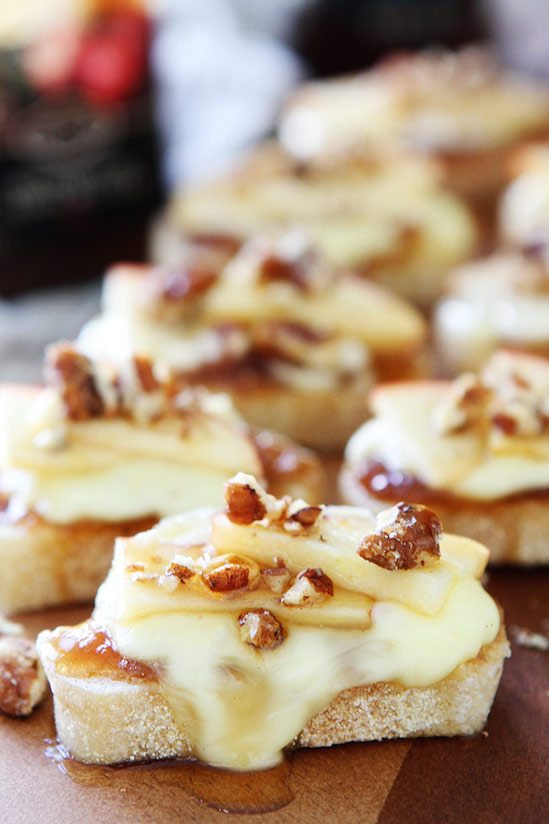 Cranberry Dill Cheese Ball – Cheese balls are just plain a must for the holidays. And the combo of this one screams Thanksgiving!

Spinach Artichoke Dip – I am a sucker for a good dip and this one looks like a GOOD dip! You can almost never go wrong with spinach and artichoke.

Sweet and Spicy Cranberry Meatballs – The best part about these? They're made in the slow cooker! Just look at how saucy and delicious they are. This recipe shows you how to make your meatballs, but I'm sure store bought ones would be fine if you are in a crunch for time. Although, I would bet money that the homemade ones will be worth it!!

Apple Cranberry Feta Pecan Salad – I prefer equal amounts of fixins to lettuce in my salads and this one doesn't disappoint!

Bacon Wrapped Dates with Goat Cheese – Okay, I have to admit…these are from my sister-in-law's food blog. But before any of you yell "nepotism" and claim that I only put it in here because she is my SIL, let me stop you right there. I included these babies because they are literally one of the best foods you will ever taste in your life. I have had them multiple times, so I can personally attest to how amazing they are! I am craving them now, just looking at this photo. These get requested at every family function because everybody loves them so much. These aren't just a suggestion for your perfect Thanksgiving dinner, they are a requirement!

Macaroni and Cheese Casserole – Does this not look like the creamiest mac and cheese you have ever seen?! I want to stuff my face with it.

Browned Butter Mashed Potatoes – There are mashed potatoes and then there are browned butter mashed potatoes. I prefer the latter.

Green Bean Casserole – If you are going to bother having the ultimate classic green bean casserole at the Thanksgiving dinner table, please promise me you will use this recipe and make it from scratch. The canned stuff literally doesn't hold a candle to it.

Cheddar Bacon Deviled Eggs – My family grew up with deviled eggs at almost every holiday meal. Probably because we had chickens, so they were cheap. I liked them well enough, but this recipe really kicks up the flavor and turns them into a craving and not just a nice side.

Sweet Potato Casserole – Just look at that buttery, caramel topping! There are so many ways to make sweet potatoes, but this one is definitely my favorite!

Honey Butter Pull-Apart Rolls – I know y'all were just waiting on the edge of your seat, needing to make sure I included a roll recipe. Have no fear, because these are the only rolls you need for Thanksgiving. They are basically pre-buttered with a touch of honey and taste great with homemade jam or something on top too! These are my favorite rolls ever!

Homemade Cranberry Sauce – Do yourself a favor and don't put anything can-shaped on the dinner table this year. Make your own delicious cranberry sauce with just a few ingredients and a little time on the stove. You won't regret it, I swear.

Brown Sugar Carrots – This is another slow cooker recipe, which is the best on a busy day like Thanksgiving! And don't feel bad about the butter and sugar, because hello? You're eating carrots.

Cheesy Scalloped Potatoes – I'm not sure why they haven't figured out how to grow potatoes with cheese already infused in it, because the two seem like they should go together from the start. These potatoes are perfectly cheesy and a real crowd-pleaser!

Classic Stuffing – Last, but not least, stuffing has always been my top favorite side dish at Thanksgiving. This particular recipe is made from scratch, which is fancier than what I had growing up, but if there is one thing I have learned while running a food blog, it's that from scratch is almost always better.

There you have it, friends. The Best Thanksgiving Side Dishes that you can find. Let me know if I missed any of your favorites and I hope you find a few new favorites from this list!
-Sarah