Welcome to another Man Monday!
*Cue scary music*
The time has come. October is finally upon us. Lock your doors. Protect the children. Run for your lives… And eat delicious zombie eyeballs.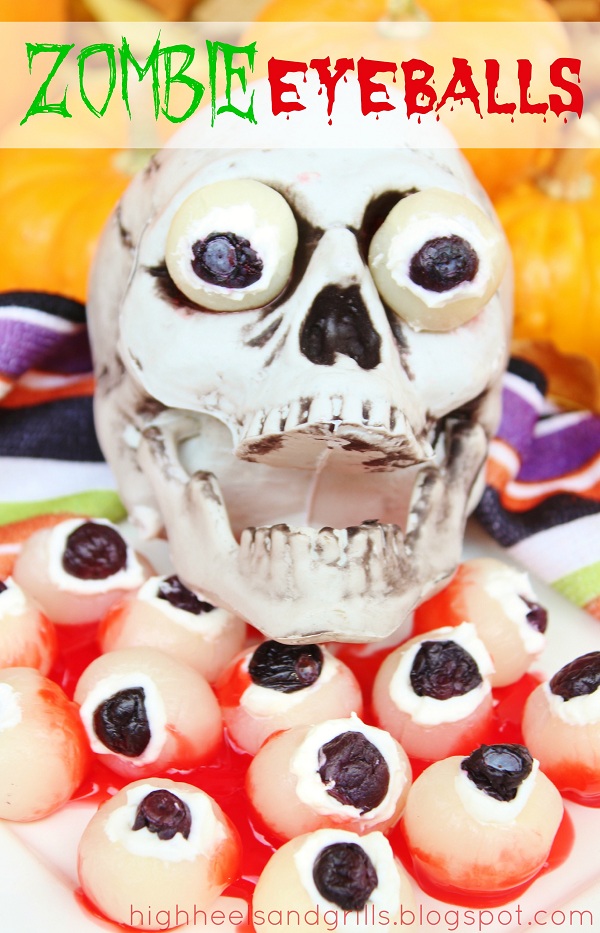 I fuh'reakin love Halloween. Maybe it's because I'm a fan of all things geek. One of my most favorite geeky things are zombies. Seriously, ask Sarah. In fact, I can remember a drive we made from San Antonio to Del Rio, Texas (that's a 3 hour drive, mind you), in which I completely laid out my contingency plan in the event a zombie apocalypse actually happened. I excitedly explained to her my every survival decision while she tried really hard to sound interested. I'm pretty sure eating zombie eyeballs wasn't a part of that contingency plan, but it sure is fun for Halloween.
Sarah will probably post a few cute Halloween recipes, but not me. No sir. Man Mondays will only provide you with the very gruesome. So, without further ado, I present to you this wonderfully morbid and delightful dish. The idea for my zombie eyeballs was found here.
Makes about 20 individual and edible oculi (fancy for eyes).
Ingredients
1 can longan fruit (found in any Asian supermarket)
eyeball filling

4 oz of cream cheese (1/2 of the standard block)
4 oz of cool whip (1/2 of the normal size bucket)
1/4 cup powdered sugar

blueberries
strawberry glaze (or strawberry syrup)
paper towels
small ziploc bag or piping bag

Directions
Prepare the eyeball filling by simply whipping the ingredients together. It may help to heat up the cream cheese in the microwave for 15 seconds or so… makes it easier to mix.
Pat dry the longan fruit and the blueberries.
Spoon the filling into a ziploc bag or piping bag. If you are using a ziploc, cut a small section out of a corner. Fill each longan fruit with your eyeball filling by squeazing the filling out of your bag. I like to be very generous with the filling – after all, it's the tastiest part of your ocular delight.
Pack in a blueberry right in the middle.
Serve on a plate of blood (strawberry glaze or syrup). If you want to get extra gross… (yes please), add little chunks of strawberry or cherry to mimic bloody pieces of yumness.
I hope you enjoy eating this gross (yet delicious) stuff. I must warn you though… while eating, try not to imagine yourself eating real eyeballs. You'll gross yourself out and not want to eat anymore. Not unlike someone I know…*Zach glares at Sarah as she walks by.*
-Zach
Linking up here.