Welcome to Man Monday!
Soooo, I broke my hand on Easter. Yup. Bottom line it hurts a LOT to freakin' type this post (I refuse to type one key at a time), so it's gonna be short and sweet.
I've wanted a good curry recipe for a while, like a LONG while. Anyways, a couple weeks back I went to work and discovered my friend, TJ, had brought some delicious smelling curry for lunch. I needed to have it. I needed to have it like a Kim Jong-Un needs his insulin. Fo' reals. So as much as I'd like to claim this delicious creation as my own, I can't (thanks TJ!). Aaaand it's vegetarian and healthy(er) and stuff.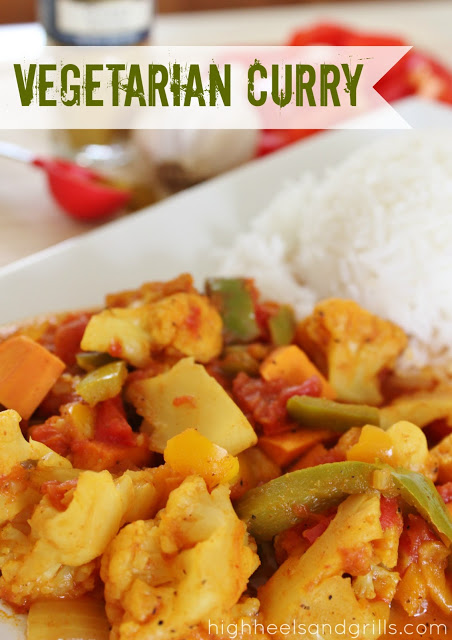 Makes about 8 servings.
Ingredients:
2 tablespoons olive oil
1 sweet potato, chopped into bite size pieces
1/2 onion, chopped
2 cloves garlic, minced
3 tablespoons curry powder (it seems like a lot…because it is. Just trust me on this one)
3 tablespoons tomato paste
1 can (14 oz) diced tomatoes
1 cube vegetable bouillon
1 bag frozen veggies (I used a bag of frozen peppers, 14-18 oz)
1 bag frozen cauliflower
1 1/2 cup water
1 teaspoon cayenne pepper (varied depending on how spicy you like it)
1 teaspoon crushed red pepper
salt and pepper to taste
Heat up your olive oil in a large skillet/pot. Add your sweet potato and cook on medium-low heat for about 2 minutes. Add your onion and garlic. Let the garlion (onion and garlic, get it? nevermind…) brown.
Once the garlion is brown, add your curry and tomato paste and cook for about 2 minutes on medium-high heat.
Stir in the remaining ingredients. If you want you can cackle like a witch as you add each new item to your cauldron… not sayin' I did that or anything *awkward*.
Cook the pot of delicious for about 20 minutes on medium, or until everything is nice and done. Don't want any starchy sweet potatoes, ya hear?
How easy was that?! The nice thing is, you can save this stuff for a LONG time. Serve up individual portions in ziploc baggies and freeze 'em. That way, you'll never have to go to work without a lunch. We like to eat this jank (that's junk, but not junk, cause junk it gross) with rice. Enjoy!