I'm not much of a brownie fan, so when my Sunday School kids requested brownies for their reverence award, I was kind of bummed that I wouldn't get to enjoy it with them. As I got baking though, I decided to mix things up a bit – and that's when the triple chocolate brownie was born.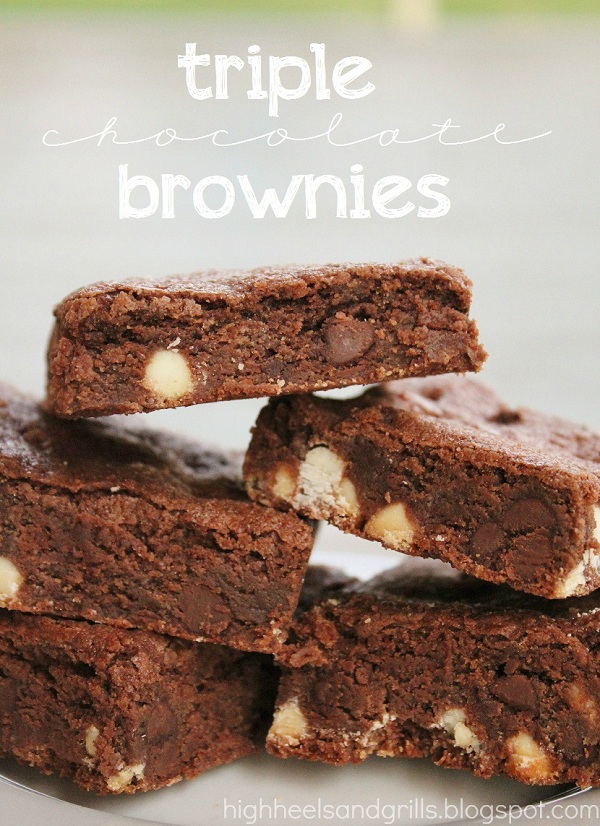 I can't stand the thought of making something for someone and not trying it myself. I mean, what if I just delivered the most disgusting food on the planet and I had no idea? That's why I'm a firm believer in trying everything you make – even if it's not your favorite thing in the world. So, with me being a non-brownie-lover, I still had to try these before I took them to my kids and I will admit that these brownies actually tasted pretty dang good. They are so unbelievably moist and I'm not talking the cakey kind of moist – I'm talking the ooey gooey brownie kind of moist that makes you keep going back for more. I'd bet money that this will forever be your go-to brownie recipe. (Recipe from the I Do Cookbook)
Ingredients:
1-1/2 cups flour
1/2 cups cocoa
1/4 tsp. baking powder
1/2 tsp. salt
2 cups sugar
1 cup butter, softened
4 eggs
2 tsp. vanilla extract
1 cup milk chocolate chips
1 cup white chocolate chips
Directions:
Preheat oven to 350 degrees Fahrenheit and grease bottom only of a 9×13 inch pan.
In a medium bowl, combine flour, cocoa, baking powder, and salt – set aside.
In a separate bowl, cream sugar, butter, eggs, and vanilla.
Gradually stir the flour mixture into creamed mixture.
Stir in chocolate chips.
Spread in prepared pan and bake 28-30 minutes or until cracks begin to form.
Cut into squares and devour ravenously.
I hope you like them just as much as I surprisingly did!
-Sarah
Linking up here.