Full disclosure: 

REAL® Seal provided me with compensation for this post, but all thought and opinions expressed are mine.
Do you know what really chaps my hide these days? Posers. People/things acting to be something they're not. I have found this to be a huge problem when it comes to food. Brands are sneaky. They try to mislead you and make you think great things about them when they're not. For example, Zachary and I are on a sugar fast for the month of June and I'd be lying if I didn't say it's been reeeeeally hard and we're only 5 and 1/2 days into it. As I was on my way out to the grocery store today, Zachary asked me to get him some sugar free snacks. I had two packages of sugar free cookies sitting in my cart until I decided to look at the ingredients in them. They may not have had sugar in them, but they were chucked full of artificial sweeteners. I've read a few articles recently that talk about how artificial sweeteners can actually give you the munchies for regular sugars, so I immediately put the cookies back, because that's the last thing I need!
My point is, there are a lot of products out there that can be deceiving and aren't actually delivering what you think they are. I've been in contact with a company for a while now called 
REAL® Seal
  They specialize in providing dairy products to the public that are certified as having 
been made in America without imported, imitation, or substitute ingredients.
Products bearing the REAL® Seal must meet specific guidelines and
companies register these products and provide product ingredient labels. 
I, for one, love the idea of being able to support U.S. farmers and knowing what is going into my body!
If you are interested in shopping for your own 
REAL® Seal products, be sure to look for the 
REAL® Seal stamp 
on the label of your favorite dairy items.
And if you're into frozen yogurt, use your favorite 
REAL® Seal yogurt to make this incredible Skinny Peach Frozen Yogurt. I don't know if it's because I haven't had sugar in 5 days, but this stuff is to die for! We have made it three times since discovering it. In fact, I'm eating it as I type this. It's awesome to be able to have 
something that is somewhat healthy for me, but still tastes so naughty. 😉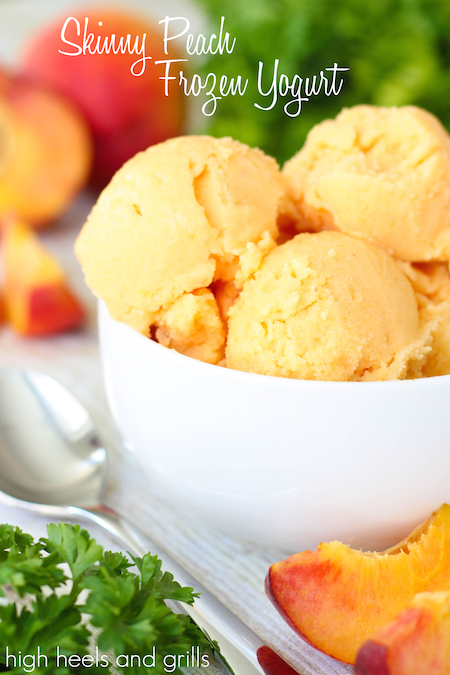 Skinny Peach Frozen Yogurt

Recipe adapted from Just A Taste
Makes about 2 cups
Ingredients:

1 {16 oz.} bag frozen peaches
1/4 cup raw honey
1/2 cup plain yogurt {I like to use Greek yogurt}
1 Tbsp. fresh squeezed lemon juice
{Optional} 2-3 Tbsp. milk

Combine all ingredients in a food processor and pulse until creamy and smooth.
Serve immediately or store in an airtight in the freezer for up to one month. {I prefer to eat it immediately.}
-Sarah