Hello! Give a big welcome to Alicia from
The Baker Upstairs
and these yummy enchiladas! Take it away Alicia.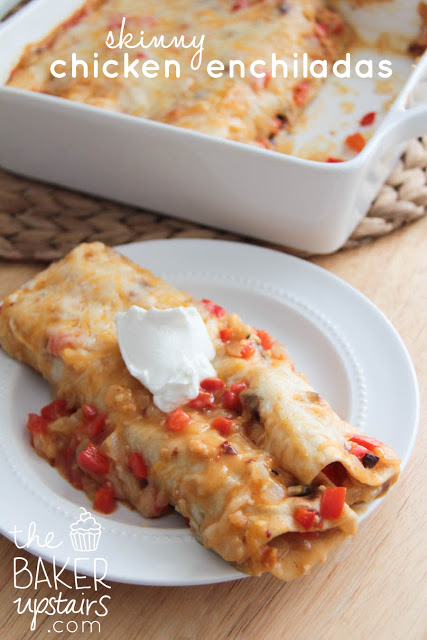 Hello again, High Heels & Grills readers! I'm so happy that Sarah asked me back for another guest post! To reintroduce myself, my name is Alicia and I blog at The Baker Upstairs. I have two adorable little girls, ages five and almost two, and I've been married to my sweetheart Geoff for almost ten years. I work part time as a nurse, and spend the rest of my time chasing kiddos around, knitting, reading, running, sewing, and doing lots and lots of baking!
Over the last few years, we have made a real effort to eat at home almost every night. This means I have to put a lot of energy into menu planning, but the payoff is that we save money and I know that my kids are getting healthy food to eat. One meal that is frequently on the rotation, thanks to my husband Geoff, is enchiladas. I've tried just about every variation of enchiladas, but until recently I hadn't found a healthy version that didn't sacrifice on taste or texture. This recipe is awesome! It uses much less cheese than my usual enchilada recipe, but still has a creamy, cheesy taste. The sauce is savory, with a little kick, and the chicken inside is moist and flavorful. Best of all, they are easy and quick to make, perfect for those weeknights when I get home from work and have no idea what to feed the family!
Skinny Chicken Enchiladas
adapted from Simply Scratch
2 chicken breasts, shredded
2 tablespoons olive oil
1 small yellow Onion, diced small
1 small red bell pepper, diced small
2 cloves of garlic, minced
1 tablespoon minced chipotle peppers
1 teaspoon cumin
3/4 teaspoon salt, more or less to taste
1/8 teaspoon pepper, more or less to taste
1/4 cup all purpose flour
1-1/2 cups chicken broth
1/4 cup water
8 whole wheat tortillas
1/2 cup grated muenster cheese
Preheat oven to 400 degrees. Lightly spray a 9×13 pan with cooking spray.
In a medium saucepan, heat olive oil over medium heat. Add onion and red peppers, and cook until onion is translucent, about five minutes. Add garlic, chipotle peppers, cumin, and salt and pepper, and cook another minute. Add flour and stir to make a paste. Whisk in the chicken broth and water, and bring to a simmer. Simmer until sauce has thickened, and remove from heat.
Spread a few tablespoons of sauce in the bottom of your baking dish. Place shredded chicken in a medium bowl, and toss with one cup of the enchilada sauce. Warm the tortillas in the microwave to make them more flexible.
Spoon 1/8 of the chicken mixture into the middle of each tortilla, and roll up. Place seam side down in baking dish. Complete with remaining tortillas and chicken. Pour remaining sauce over the enchiladas, and top with cheese. Bake uncovered for 15 minutes, or until cheese has melted.
Hungry for more from The Baker Upstairs?