Welcome to another Man Monday.
*Still laughing* Oh man. Hot pockets are great-esque. But there is nothing classy about them. I know what you are thinking… Man! I sure wish there were classy hot-pockets out there. Well, my friends, there is such a thing. It's called a runza. I found this glorious recipe in the October issue of Food Network Magazine. Of course, I couldn't leave it alone and had to change the recipe a bit, but I promise it was for a good cause. I've heard that cabbage is supposed to be used rather than spinach. Changed in the name of authenticity.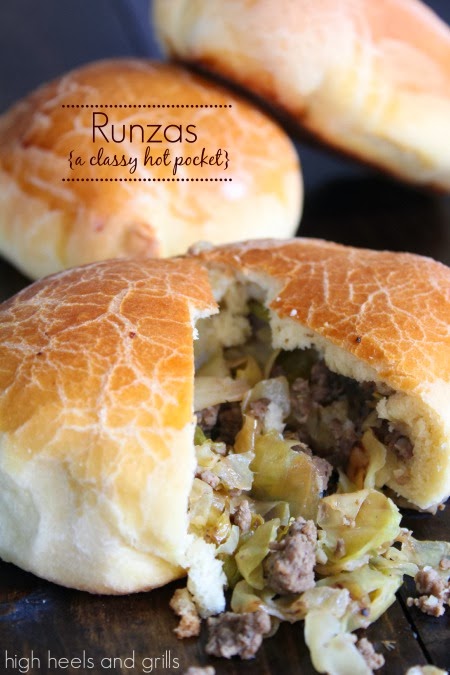 Runzas – A Classy Hot Pocket

Makes 10 Runzas
Ingredients:

Dough:

1/4 oz packet of dry yeast
3 tablespoons sugar
4 large eggs
3 1/2 cups bread flour
12 tablespoons salted butter
2 teaspoons salt

Filling:

1 pound lean ground beef
salt and pepper to taste
1 tablespoons salted butter
1 Vidalia onion, diced
3 cloves garlic, minced
1/2 teaspoon thyme
1 teaspoon rosemary
1 tablespoon canola oil
1/2 head cabbage, chopped

To make the dough, combine 3/4 cup of very warm water, a pinch of sugar, and the yeast in a bowl. Let it sit until it blooms. If you've never done this before, pop yourself some popcorn and sit back and enjoy the show. You'll know what I mean when the "blooming" begins. Okay, maybe it's not that cool…
Add 3 of your eggs and whisk with your yeast mixture. Add 2 cups of your flour to the liquid and mix well with a wooden spoon. Add the butter, the sugar, the remaining flour and salt and mix well.
Knead the dough on a floured surface for about 5 minutes. Place the dough ball in a buttered bowl and let sit for one hour at room temperature. Transfer to the refrigerator and let sit for at least an hour (I honestly have no idea why this is done… any tips my Nebraska friends?).
Remove the dough and divide into 10 equal portions. Roll into separate balls and let sit covered while you make the filling.
Speaking of the filling, get your ground beef sizzlin' on a skillet. Season as desired with salt and pepper. Cook until lightly browned, then remove the beef from the skillet with a spoon and place it in a bowl, leaving most of the grease behind. Add your butter to the skillet and begin sizzlin' your onion. Cook until translucent, about 10 minutes or so. Add your garlic, thyme and rosemary and cook for an additional 2-3 minutes. Add this whole mixture to the bowl with the beef.
Next, using the moisture still in your skillet, get the pan nice and hot. Add your cabbage and stir constantly until the cabbage is lightly browned and translucent-ish. It may seem like a lot of cabbage at first, but it shrinks down substantially. Add the cabbage to the beef mixture.
Flatten your balls of dough with a rolling pin. Each dough saucer should be about 8 inches in diameter. Place 1/3 to 1/2 cup of filling in the center of each dough-saucer and pull the edges together and pinch to enclose the filling in the dough. To avoid a thickened dough-seal, I actually cut off the excess dough with cooking shears. If you don't do something like this, you'll find a doughy center as you take your first chomp.
Preheat the oven to 375° while the runzas sit and rise for a bit. Brush some of the egg (your remaining egg of the 4 you originally had) on the top of each runza to give it a nice browning while in the oven. Cook the runzas on a greased baking sheet for about 25 minutes or until golden brown.
Enjoy my friends. We sure did. They make excellent left-overs too. And to my Midwestern friends, this was my first attempt at a classy hot-pocket, so I'd love to hear if you have any home-town suggestions for me.
-Zach