This is it friends! The last Man Monday in my special 4 week Zach Plans My Holiday Meal event!
Alright, before I get into the recipe, we are finishing off this Holiday series with a giveaway! Naturally. We have teamed up with the fine peeps over at Certified Angus Beef® to give one lucky winner a Le Creuset Roasting Pan like this: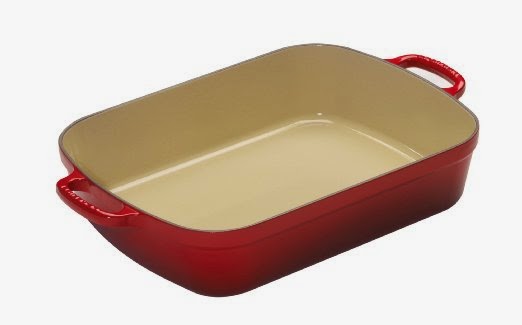 and a package of Certified Angus Beef Steaks including a premium selection of four 12-oz. strip steaks, four 8-oz. filet mignons and four 10-oz. ribeyes. Now, remember the tri-tip I presented to you a couple weeks ago? We used a Le Creuset Roasting pan to cook that, and it was awesome. These things are heavy duty. Also, Sarah and I have been living like a King and Queen off of these Certified Angus Beef®  steaks for several weeks. CAB wants to share the love with you guys. Also, we want to give this to you guys so you can go make these recipes I've been smacking my lips about for the last month!
Just leave a comment on this post, telling me what your favorite cut of beef is along with your e-mail address to enter!
Alright, now to the meat of the post *knee slapping*.
The last few weeks I've given you a delicious appetizer, a hearty main course, and an easy dessert. You could easily put together a holiday meal to impress following my plan. Now, you might have some left-over roast yeah? Well, this recipe will solve the dilemma about what to do with that roast. I mean, just because it's the holidays, doesn't mean you should go throwing out perfectly good food. Use that leftover roast and your soul won't crumble away into a grief-ridden-sorrow-fest-of-torment. Don't use it… I guarantee nothing.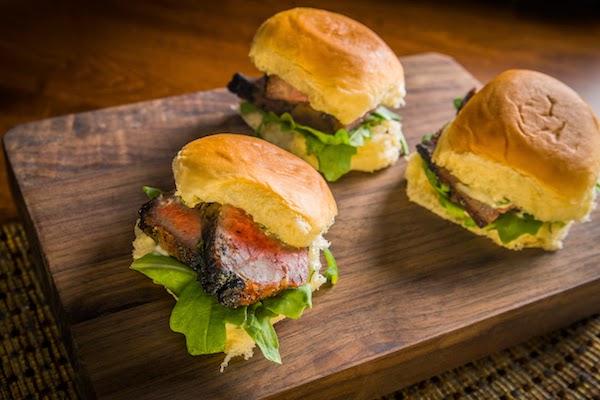 Roast Beef Sandwiches with Dill Mayo

(Makes about a dozen sandwiches)
Ingredients:

1 package (12 pack) Hawaiian sweet rolls, or pretzel rolls (or use leftovers!)
12-18 very thin slices of your leftover roast
1 package arugula (baby arugula works best on these little rolls)
Lemon Dill Mayo

1/4 cup mayo
2 tablespoons cream cheese, softened
1 teaspoon fresh lemon juice
1 tablespoon fresh dill, chopped (use 1 teaspoon, if using dry dill)
salt and pepper to taste

Directions

Okay, this couldn't be more simple. Lay out all your ingredients minus the mayo stuff. Mix your mayo, cream cheese, and lemon juice together until it is all smooth and consistent. Add in your dill and salt and pepper until it tastes the way you want it.
Spread about a tablespoon of the mayo goodness on each roll, top and bottom. Put your arugula down, the beef on top of that, and put your top on.
Done. Easy. No wasting happening here. Your hippy self, whom you call "the Earth Child," is singing that John Lennon song "War is Over." Oh, and your soul won't crumble away into nothingness… Wow, aren't you glad you made these leftovers? 😉
Well folks, I really enjoyed putting together your holiday meal for you. Seriously. Oooo! I just had a moment of inspiration. Why not do this again? Next time, I'm going to create a meal that all my bros out there can put together to impress their wives/girls/harems/lonely-selfs for Valentines! Stay tuned. Zach out.
Giveaway Terms & Conditions:  Giveaway will end on Friday December 5th at 8:00 pm MST. Open to anyone 18 years of age or older with a valid US shipping address. (No P.O. Boxes please.)   Winner will be contacted via email so please be sure to comment using a valid email address where we can reach you. Winner will have 48 hours to respond and confirm their shipping address, otherwise a new winner will be selected and so on.
Disclosure: This giveaway is provided by Certified Angus Beef ®. All opinions are my own. #ROASTINGSEASON
-Zach