*For up to date happenings on High Heels and Grills, be sure to like us on Facebook and follow us on Pinterest!*
This week I was SO looking forward to saying, "welcome to the first Man Monday of 2013!" and it's not even Monday…. Whatevs. Our giveaway kinda stole the cake yesterday, so I got bumped to today. Have no fear, today's post is AWESOME!
Let's take a look at blue cheese for a moment (often spelled "bleu"). Let me get this straight… blue cheese is cheese made from milk, and then injected with the Penicillium mold? Who the heck comes up with this stuff? Since when does mixing anything with mold suddenly make it awesome? I mean, God invented mold for a reason. If mold could talk it would say, "yo idiot, why you tryin' to eat me? I taste terrible because if you do eat me, I'll get you sick!" Yet, magically, if you mix it with cheese, put it on a burger, and call it a blue cheese burger, Zach is willing to fork over some hard earned cash to eat it… so weird.
Friends. I'm addicted. Every restaraunt that I go to, I have to try their blue cheese burger. The very best one that I've ever had was from Red Robin. It even inspired me to make my own version several months ago. Though THAT burger was good, I find that I crave the Bleu Ribbon on pretty much a daily basis. So, I made it.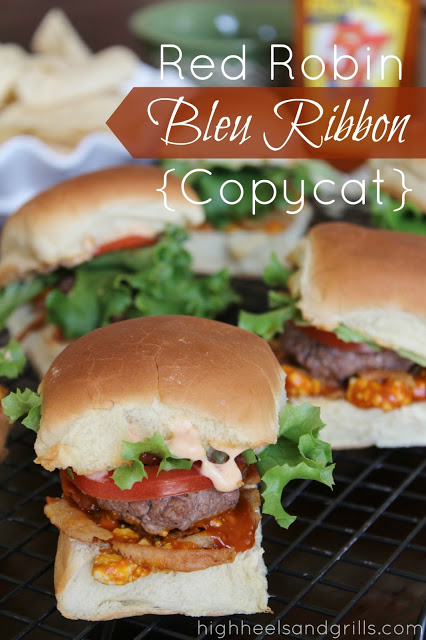 Now, as most of you (should) know, the Super Bowl is this Sunday. I've adapted a recipe I found on bigoven.com and made sliders for a great Super Bowl idea. Peeps. They taste SO good. I literally had six of them this last week. Granted, they are a little smaller, but still.
Ingredients:
(Makes 6 sliders)
1 dozen dinner rolls (cheap kind is fine, no need to get fancy)
3 tablespoons blue cheese crumbles
3 tablespoons Heinz 57 steak sauce
2 tablespoons mayo
1/2 chipotle pepper (from a can), mashed/pulverized/minced/whatever
1/4 cup onion straws
1 teaspoon butter
1/2 lb ground beef
salt and pepper
garlic salt
lettuce
1 roma tomato

Directions:
I like to assemble all my condiments and toppings first. If you make the meat last, it will be nice and hot when you are ready to serve. So, first, I cut the dinner rolls in half and set aside.
Sauces: Mix the Heinz 57 and blue cheese crumbles together. This will keep the crumbles from crumbling all of the crumbling place. Separately, mix the mayo and your chipotle paste together. Apply the blue cheese mixture to one half of the bun (about 1 tablespoon), and the mayo (about 1 teaspoon) to the other.
Heat your butter on a skillet until it begins to bubble. Add the onion straws, and stir. Cook on medium high heat for only a minute or so. These WILL burn quickly if your not careful.
Split your ground beef into six equal sizes and pound out your individual patties. The patties should be slighly larger than the sizes of the rolls (they will shrink when you cook them). Be sure to season your patties with salt, pepper, and the garlic salt before grilling. Now, normally I don't like to use a personal grill like the George Foreman when cooking my meats. They just dry out too much! I like my burgers juicy. The nice thing about these patties is they are so small that they cook in a flash and don't have time to dry out. In fact, it took me exactly 3 minutes to cook each patty to perfection.
Assemble your burgers with the patty, lettuce, onion straws, and tomato. Enjoy!
I hope you enjoy this recipe. And if you are weirded out by eating moldy stuff like me, just promise me you'll give this a try! I'm telling you, it's incredible, and it will be the perfect addition to your Super Bowl Sunday snacks. *Go 9ers…*

-Zach
Linking up here.