Zach here, 'erbody.
You know that part in Little Rascals when Porky, not knowing the power of pickles and negotiation, sells his pickle for two cents? Well, Buckwheat proceeds to sing in glee, because he is "crazy about 'em." For those less fortunate/cultured, the song goes like this:
I have two pickles, I have two pickles, I have two pickles today, hey, hey!
A'do dang ving, vaydawoo wang bing jiggles, I have two pickles today, tay tay!

Pretty talented dude, that Buckwheat. And I happen to agree with him whole-heartedly. Pickles are great! I've always wanted to make my own pickles. I saw this recipe for pickled carrots in food network magazine, May edition, and I couldn't resist. It happens to be pretty great. I've adjusted the ingredients to my liking a bit. And, I'm perfect, as my wife will gladly tell you *cough*, so my take MUST be better.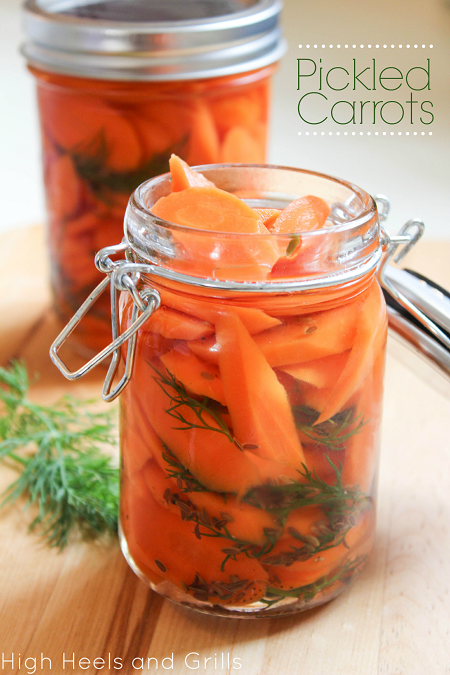 Pickled Carrots
Makes a 1 Pint Jar

Ingredients:

7 medium carrots (normal size I guess), sliced a little thinner than 1/4″
4 small sprigs fresh dill
2/3 cup white wine vinegar
3/4 cup water
1/8 cup sugar
3 teaspoons salt
1 teaspoon dill seeds
1/2 teaspoon caraway seeds
1/4 teaspoon black pepper

Bring a medium pot of water to a boil. Add the carrots and cook for about 5 minutes on high. Drain and rinse under cold water. Pack the carrots and dill sprigs into a 1-quart jar.
Make the brine by combining the vinegar, water, sugar, salt, dill seeds, caraway seeds, and pepper; bring to a boil.
Pour the hot brine into the jar with the pickles and let cool. Cover and refrigerate overnight.
-Zach