Today we have a yummy dinner recipe from my friend Danelle. Be sure to give her some High Heels and Grills love!
Hi, I'm Danelle and I blog over at Let's Dish! I'm so excited to be guest posting for Sarah today. I met Sarah and her cute family recently when they moved into the neighborhood across the road from me. I love all of the people I meet online through blogging, but it's so much fun having another real live food blogger close by!
I have a quick and easy weeknight dinner recipe for you today: Philly Cheese Steak Sloppy Joes. These sloppy joe sandwiches are a real crowd pleaser. My family devoured them and my husband–both a Philly cheese steak and a sloppy joe fan–asked if I'd be putting them on the menu again soon. You can't beat an easy meal that everyone loves!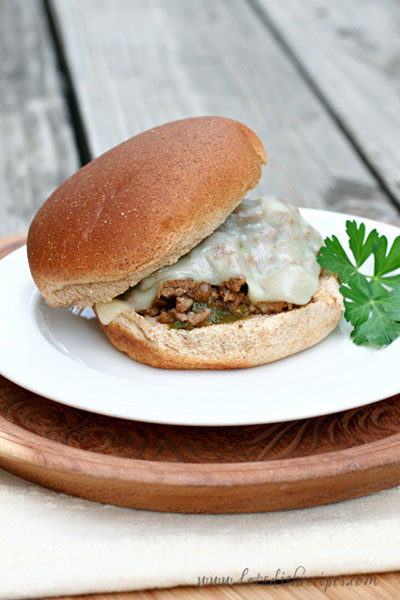 Philly Cheese Steak Sloppy Joes

Makes 6 Sloppy Joes
Adapted from: Six Sisters Stuff
Ingredients:

1 lb. ground beef
1 medium onion, chopped
2 cloves garlic, minced
1 medium green pepper, chopped
1 cup sliced fresh mushrooms
1/4 cup steak sauce
1/2 cup beef broth
1 teaspoon Montreal steak seasoning
Salt and pepper, to taste
6 hamburger buns
6 slices provolone cheese

Directions:

In a large skillet over medium-high heat, brown the ground beef until no longer pink.
Add the onion, garlic, pepper and mushrooms and cook until vegetables are tender, about 5 minutes.
Stir in the beef broth, steak sauce and steak seasoning.
Season with salt and pepper to taste.
Cook for a few more minutes, until mixture begins to bubble.
Preheat broiler.
Place buns an a large baking sheet.
Spoon a generous amount of filling onto each bottom bun and top with a slice of cheese.
Broil until cheese is melted and buns are golden brown.
Drizzle with additional steak sauce, if desired.
Thanks for having me today! Be sure to check out my blog for some other yummy recipes!
-Danelle