Welcome to a fantastic Man Tuesday! I know, I know, it ain't Monday. My dearest wife keeps doing these giveaways on Mondays, thus crushing my Man Monday hopes and dreams (I love you Sarah ;). After significant begging and maybe a little whining, she agreed to leave my Man Mondays alone for a while (after this week of course).
So remember that one time Sarah and I went to Puerto Rico? Well, we REALLY wanted to share some of the culinary wonders we experienced there. Believe it or not, there's a delicious little cupcake shop near the "San Juan Gate" in old San Juan. I just couldn't walk by it without trying their PB&J cupcake. MAN! I was not disappointed!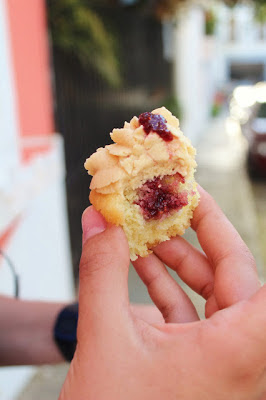 Naturally, I had to try my hand at a re-creation. Besides, if I, being a manly man who-doesn't-need-to-prove-anything, am going to make a cupcake at all, it may as well be PB&J inspired. I'm ashamed of nothing.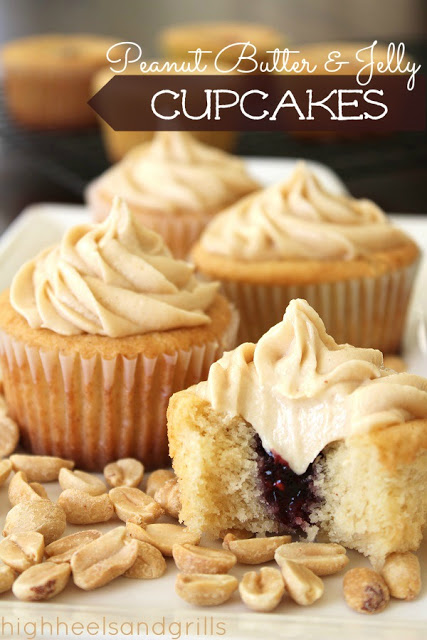 Makes 24 cupcakes.
Ingredients:

Cake:
1/2 cup butter, softened
2 tablespoon peanut butter, softened
2 eggs
1 2/3 cup flour
1 1/2 teaspoons baking powder
1/4 teaspoon salt
1 cup sugar
1 teaspoon vanilla
3/4 cup milk
1/4 cup of jam or jelly of your choosing
I used this recipe for the frosting but I'll list the ingredients here to reduce confusion:
1 (8 oz.) pkg. cream cheese
1/4 cup (1/2 stick) salted butter
1/4 cup peanut butter
1/2 tsp. vanilla
2 cups powdered sugar

Directions:
Allow your butter, eggs, and peanut butter to soften to room temperature.
Preheat oven to 350º. In a bowl stir together the flour, baking powder, and salt; set aside.
Beat butter and peanut butter together for about 1 minute or until one consistency. Slowly add sugar until well combined. Add eggs one at a time and mix well. Beat in vanilla. Alternately add flour and milk a little at a time while mixing.
Place about 1/4 cup of batter into each cupcake paper cup thingy (about 1/2 full).
Bake cupcakes in the oven for about 14 minutes. This step may vary. After all, we live at 6,000 feet. If you burn yours, don't come crying to me you sea-level-er.
Follow the directions in the frosting recipe listed above. At step 4 of that recipe, add the peanut butter.
After the cupcakes have baked, make sure to allow them to cool completely. Cut out a small portion of cake in the middle of each cupcake. Pipe in about 1 teaspoon of jelly/jam in the hole you just created. Cover the jelly center by simply frosting your cupcakes.
That's it folks! I may or may not have eaten 8 of these in 2 days… They are that good. Really.
-Zach