Zach here. I apologize for no Man Monday this week folks. The responsible-bring-home-the-bacon job kinda sucked the life out of me for the last several days.
Picture this: You're wandering the house feeling your stomach growl. You're too lazy to go buy any food because you haven't been home for seven days and all you want to do is sit around. You see a jar of spaghetti sauce, some noodles, frozen chicken, and parmesan. *light bulb moment* Chicken Parm right?! Well, it might not be the stuff you buy at that "olive" restaurant, but with only a few ingredients, it's pretty dang good.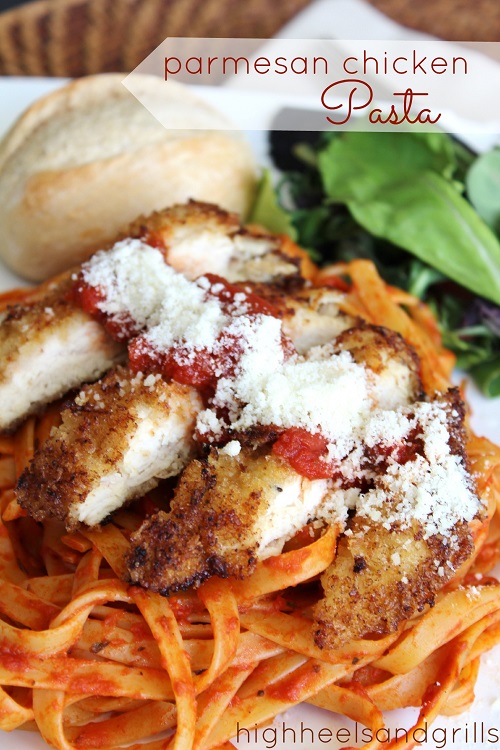 Makes 4 servings
Ingredients
4 chicken breasts, thawed
2 tablespoons olive oil
1 egg
1 cup panko bread crumbs
1/2 cup shredded parmesan cheese
1/2 teaspoon onion salt
2 cups spaghetti sauce of your choosing (I won't feel bad AT ALL if you use my recipe 🙂
your favorite pasta, cooked
salt and pepper to taste

Directions
Preheat oven to 375º.
On a cutting board, pound out your chicken to about 1/2″ to 3/4″, just enough to tenderize it a little and to allow an even cooking.
Blend your egg in a bowl. Then, mix your bread crumbs, parmesan cheese, and onion salt together in a separate, shallow bowl.
Get your olive oil nice and warm on medium high heat in a skillet.
While the oil is heating up, grab a chicken breast, dip it in the egg, then coat it with the bread crumb mixture on both sides.
When your oil is hot, place the breaded chicken in the skillet. Cook till golden brown on both sides.
This next part is something I did because I'm not a fan of greasy chicken. You can cut it out if you want. Put a cookie-cooling rack on a cookie sheet, thus creating a raised surface for your chicken to rest when in the oven. Put your chicken on the cooling rack and stick the whole contraption in the oven for about 10 minutes. This allows the grease in the chicken to drip off (onto the cookie sheet and not in your oven) AND it allows the chicken to crisp up a bit.
Serve the chicken on a bed of your favorite pasta and pasta sauce.
Enjoy!
-Zach
Linking up here.