To say I'm a Brie nut would be an understatement. Funny thing – I didn't know I was until just last Christmas. A friend had some Brie en croute on the menu as an appetizer and to be honest? That was the first time I had ever even heard of Brie. And it was also when I became an official addict. There are about a billion ways to eat Brie and a billion toppings to put on it, but this is my favorite. Buttery, caramely, pecans with soft, melty cheese, wrapped in flaky dough. Perfection. You're going to love it. I promise.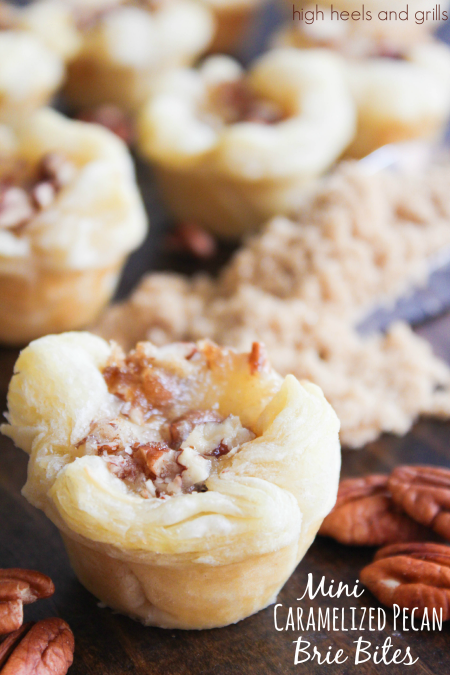 Mini Caramelized Pecan Brie Bites

Makes 18 Brie Bites
Ingredients:

2 puff pastry sheets
8 oz. wheel of Brie
1 & 1/2 Tbsp. finely chopped pecans, divided
3 Tbsp. light brown sugar, divided
1 Tbsp. salted butter, chopped into 18 pieces

Preheat oven to 375ºF and grease a mini muffin pan.
Let puff pastry sit out for about thirty minutes or until soft and pliable.
Cut each pastry sheet into 9 even pieces.
Mold pastry into muffin tin, being sure to not let it rise above the top edge too much.
Place a 1 inch piece of Brie inside each pastry cup.
Top with 1/4 tsp. pecans, 1/2 tsp. brown sugar, and a piece of butter.
Bake for 10-13 minutes or until puff pastry is lightly golden.
These would be great for that Super Bowl party you're hosting in a couple weeks! Enjoy.
-Sarah