Welcome to Man Monday.
Have you ever seen the movie 'A Christmas Story'. Of course you have, who hasn't? You remember the scene where Randy relates his feelings on meatloaf?  In case you don't remember,
here it is.
You know, if Randy's mom made meatloaf in these cups she wouldn't have had to go through the mess of pretending to enjoy watching her son act like a pig. Seriously. Instead, what she should have done was slap one of these on his plate and call it a cupcake. Okay, maybe that wouldn't have worked…
The truth is, I have always loved meatloaf.  In-spite of its less than flattering name. Really? Meatloaf? Who came up with that?! That's like calling calling a tootsie-roll a "cat-excrement-look-alike-stick." We should have just kept the German name of 
Hackbraten.
Goodness, if that's too difficult to pronounce we should have just coined it Ackbrat… or something. I digress.
Bottom line: meatloaf is good. Meatloaf cups are better.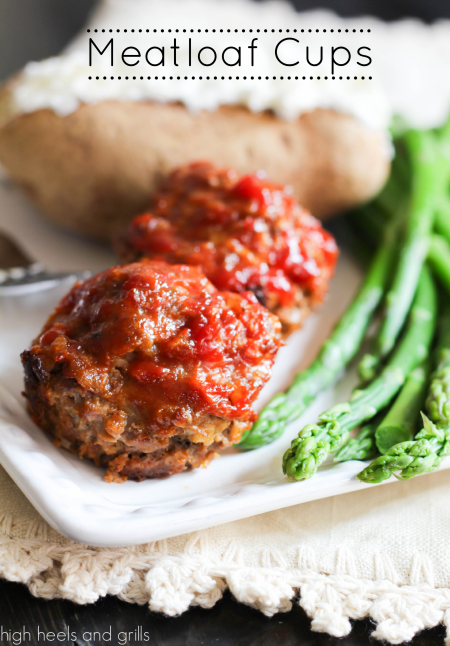 Meatloaf Cups

Makes about 12 cups

Ingredients:

1 teaspoon olive oil
1 cup onion, finely chopped
1/2 cup carrot, finely chopped
1 teaspoon dried oregano
2 cloves garlic, minced
1 cup ketchup, divided
1 & 1/2 lbs. ground beef
20-24 saltine crackers, finely crushed
2 Tablespoons mustard
1 teaspoon crushed red pepper flakes
1/4 teaspoon onion salt
1 teaspoon Worcestershire sauce (speaking of horrible names…)
1/4 teaspoon black pepper
2 large eggs
cooking spray

Preheat oven to 350ºF.
Get your oil nice and warm in a medium-sized saucepan over medium-high heat. Add your onions, carrots, garlic, and oregano and saute for about 2-3 minutes. Remove from heat.
In a large bowl, place 1/2 cup of ketchup and all your other ingredients together (except cooking spray of course). After the onion mixture has cooled, add it to the bowl as well. Now, this part is important – are you listening?! HAND-mix the ingredients together. IF you have a problem with getting dirty, you aren't welcome here on Man Monday. If you overmix or use some machine, you will end up with what should truly be called a "loaf".
Spray your muffin tin with cooking spray and fill each tin cavity with approximately 1/4 cup of meat. Baste the top of each meatloaf cup with a layer of ketchup.
Bake for 25 minutes.
Oh hackbraten, you will never get the glory you deserve.  Just like that one kid who had some sorry excuses for parents that named him Pilot Inspektor (true story).