My dad makes his own maple syrup all the time and when I was younger, I was convinced that he must be a cooking genius to be able to make syrup from scratch. He still may be a really good cook, but it turns out that maple syrup really isn't that hard to make.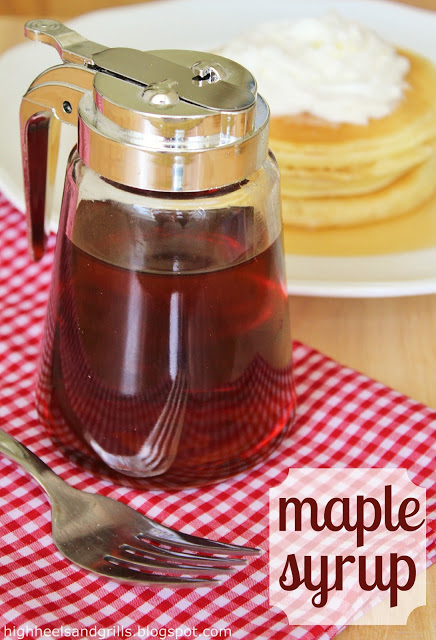 I love pouring it over some nice, hot pancakes and topping it off with some cool whip. Best. Breakfast. Ever.
Ingredients:
2 cups sugar
1 cup water
1-1/2 tsp. maple extract
Combine sugar and water in a medium saucepan and bring to a boil – For thinner syrup, remove immediately. For thicker syrup, let boil for 2 minutes.
Remove from heat and add maple extract.
Stir until well combined.
Syrup is definitely my favorite out of the four main food groups. 😉 (Elf anyone?) Enjoy!
-Sarah
*Note – this is not real Maple Syrup. Just a cost efficient alternative.*
Linking up with these lovely blogs: Tater Tots and Jello, Family Ever After, Too Much Time On My Hands, Be Different Act Normal, Funky Junk Interiors, Young and Crafty, Classy Clutter, Serenity You, Polkadot Pretties, Lovely Crafty Home, Gingerbread and Here.