The moment you all have been waiting for:  the first post featuring Zach, author of Man Mondays!! *Zach patiently waits for the fan-fare to die down*  Thanks everyone. That was nice. I'm honored to present to you, my first post!
A couple of disclaimers for any smart-alecs out there: I know, I know, Kung Pao is Chinese, but with my limited Cambodian skills, I don't know how "palatial guardian" translates… so you can deal with it… or leave (don't tell Sarah I said that).  Additionally, this recipe has nothing to do with a grill.  You will find a lot of the recipes that I put down on Mondays are grill-less.  High Heels & Grills was merely a way to cleverly explain the symbiosis that is Sarah and I via a blog title. As clever as it may be, it isn't as literal as some of you might hope. Sorry for the disappointment.
For those of you who are wondering, I do know Cambodian.  Well, a little light on the "know." Let's just say I served a mission for my church and learned the language, sort of.  I digress.  To the point: I love Cambodian food.  You don't need to learn the language or even go to the country to fall in love with the food.  So, this recipe is my tribute to Cambodian food and dedicated to you folks, who may never have tried anything Cambodian in your life.
Now, on to the recipe.  I derived this fantastical meal from a recipe in a Cambodian cookbook.  However, I felt it had many flaws, so I made it my own.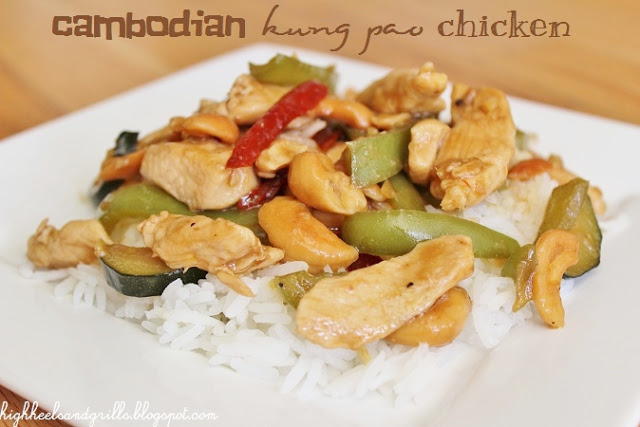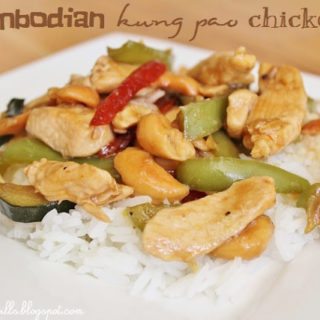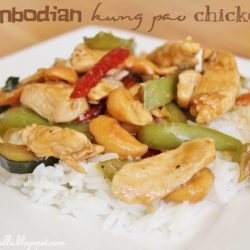 Man Mondays: Cambodian Kung Pao Chicken
Man Mondays: Cambodian Kung Pao Chicken Author: Sarah Averett
Ingredients
5

dried red chili peppers

for the small-fries, or 8-10 (for extra PAO... get it? Okay.)

2

tablespoons

of oil

1

cup

raw cashews

2

boneless

skinless chicken breasts, sliced into thin strips (for calorie watching, make sure it's about a pound of chicken)

3

cloves

garlic

peeled and chopped

2

in

fresh ginger root

peeled and chopped (about 2 tablespoons)

1

green bell pepper

sliced into thin strips

1

zucchini

halved (hot-dog style for those who need everything spelled out...) and sliced.

1/4

cup

of oyster sauce

2

tablespoons

of soy sauce

low sodium is what we used, and there was still plenty of salt - promise

Optional Cilantro for garnish

Optional 2 cups, uncooked white rice
Instructions
Soak the dried chilies in warm water for 30 minutes or so. Make sure they are completely submerged... they like to float. You can use the superbly scientific method of placing a mug on top of them to get the job done, like yours-truly did.

If you want rice, put it in the rice-cooker/pot now so it's nice and ready when everything else is.

While the chilies are soaking, prep all the other ingredients. If you are like me, it will actually take 30 minutes... OCD or not, it's how I do things.

Heat the oil in a wok or large (very large) skillet and sauté the sliced chilies and cashews until the nuts are golden brown. Beware: this happens pretty quick!

Add the chicken, garlic, and ginger and fry until the chicken just barely starts to brown. Add the zucchini chunks and bell pepper niblets and cook for another 3 minutes or so.

It may look dry, DO NOT MESS WITH IT, because now you will add the soy sauce and oyster sauce. Dryness-crisis averted. Note: don't be alarmed by the funky smell of the sauce... there's a reason it's called oyster sauce. It will still taste awesome!

Simmer until the sauce has reduced a little and the veggies are cooked to your liking.
This recipe is fantastic for left-overs and is pretty low on calories if you ask me. *Zach pretends you did ask him…*  Enjoy!
-Zach