Confession by Zach:
I'm getting fatter.
I hate that. Almost a year ago, I looked better than I've ever looked before. It took me only 11 short months to gain *cough* 12 pounds.
I'd like to say it's this blog's fault. Take a look at our recipe's page. What section is the biggest? DESSERT! We aren't like those communist-cheatin'-good-for-nothing-blog-stealin'-scum-bags who steal pictures and recipes. We have made EVERY SINGLE dessert listed on our blog. Which means we've probably eaten every single one too. Occasionally we give sweets away, but not nearly enough.
Ultimately, I can only blame myself. And if I expect to lose any weight and get back to where I was, I can only task myself in doing so. Nobody will do it for me. Soooo, I went out and bought an awesome recipe book called 400 Calorie Fix Cookbook. It has all sorts of awesome/delicious recipes with low calories.
So, with that lengthy explanation out of the way, let me introduce you to a delicious, and calorie conscious meal. Each sandwich is only 260 calories!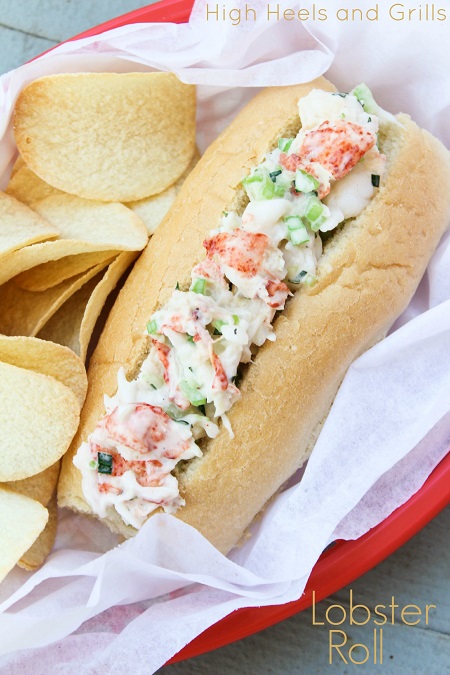 Lobster Roll

Makes 4 Rolls
Ingredients:

12 ounces lobster meat, chopped (about 3 cups). I tried both real lobster and imitation… I'll be honest, they were both equally delicious. Just save yourself a few bucks and get the fake stuff (just my opinion).
1/4 cup finely chopped celery
3 tablespoons light mayo
2 tablespoons finely chopped red onion
1 teaspoon chopped fresh tarragon (the recipe calls for 2 tsp, but I thought that was a little too much)
1 teaspoon lemon juice
1/8 teaspoon black pepper
4 New England style hot-dog rolls, or french rolls, toasted

This is so easy. Combine the lobster, celery, mayo, onion, tarragon, lemon juice, and pepper in a medium bowl.
Divvy out equal portions to each bread-roll, aaaaaand EAT!
The awesome thing about this recipe is that it can be used as any kind of salad-sandwich recipe. If you don't like lobster, just use chicken, or tuna, or hard-boiled eggs, or, or, *Zach nervously looks around for help in coming up with another protein to substitute for lobster* … whatever.
-Zach