Welcome to a manly Man Monday.
I have a love-hate relationship with ribs. They take a lot of love to make them delicious, and you usually end up needing a bath by the time you're done eating. On America Day, a day in which barbecuing should not be done half-heartedly, Sarah and I enjoyed these beauts: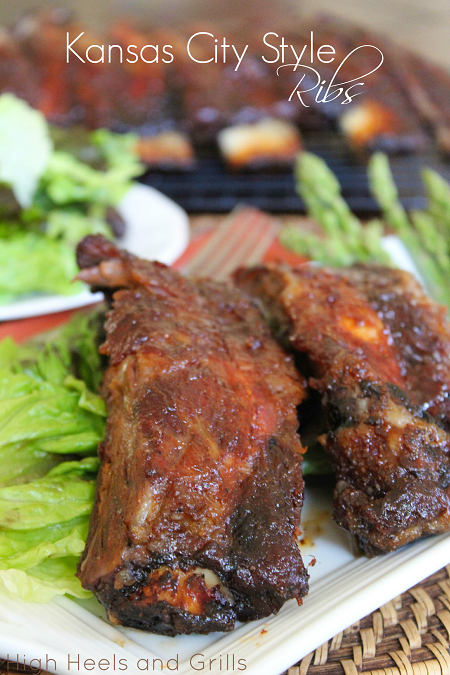 What makes a rib Kansas City style? I have no idea. Go ask someone from Kansas City. Any Kansas City-ans want to enlighten me? All I know is these things are GOOD. I didn't really feel like making my own barbecue sauce, but just about any grocery store has a "Kansas City" style bbq sauce for purchase. The secret however, is in the dry rub – giving the ribs a wonderful, sweet crust that crunches with each bite.
Kansas City Style Ribs

Recipe adapted from Food Network
Serves 4
Ingredients:

2 slabs ribs (pork or beef, whatever your preference), 2-3 lbs each
1 cup Kansas City barbecue sauce
Dry rub:

2 cups brown sugar
1/4 cup dry mustard
1 tablespoon cayenne pepper
1 tablespoon smoked paprika
1 tablespoon garlic powder
1 tablespoon onion powder
1 tablespoon salt
1 teaspoon black pepper

Mix all of your dry rub ingredients together and set aside temporarily.
Prepare your ribs by removing the white, tendondy, weirdy, membrane thing from the bone side. You may act like a caveman/cavewoman while doing this, you have my permission. Liberally apply the dry rub to every square inch of your ribs, pressing into the meat. Let your dirty ribs refrigerate for at least a few hours or overnight.
Heat your grill to about 225° and grill 'em! I did this by turning one of my burners on a relatively low setting. I placed the rack of ribs on the other side of the grill, not directly over the flame. I let the dry rub get all nice and crusty by grilling meat side down for about one hour. After that, baste your ribs with the barbecue sauce every 30 minutes for another 3 hours or so (or until tender), turning the ribs over once or twice.
That's it! Enjoy your most caveman-esque food experience with your friends, family, and whomever else you might want to impress.
-Zach