Aren't jalapenos just the best?? I know so many people that hear the word 'jalapeno' and immediately think 'hot', 'teary eyes', 'mouth on fire', etc. Yes, I know that jalapenos have some heat, but they're really not as bad as you would expect. Especially when paired with cream cheese. It cools off the spiciness perfectly, which was just the case with these little babies: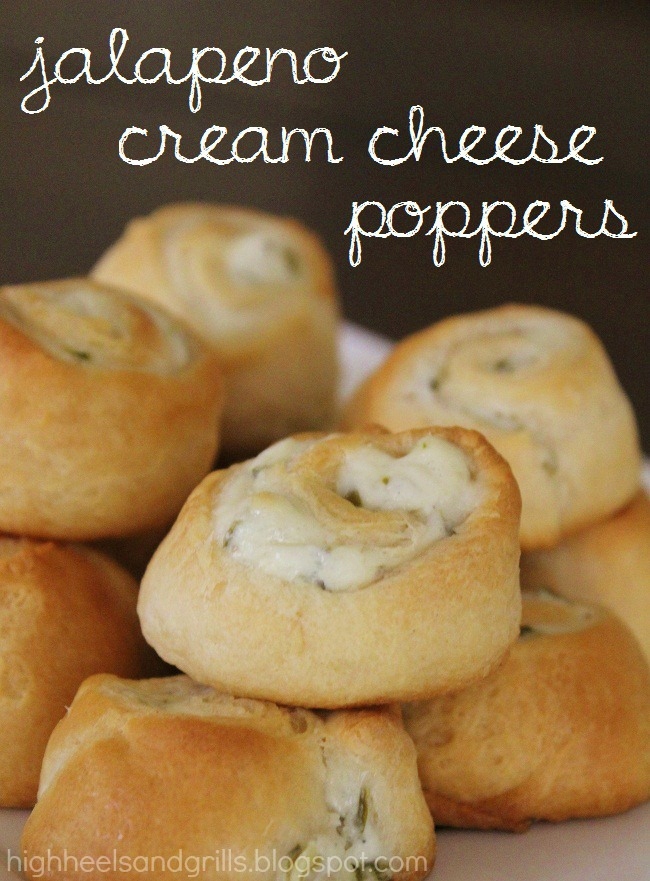 These are easy to whip up in no time and they're a definite crowd pleaser. There are only three ingredients and would make the best appetizer to bring to a guest's house, to a super bowl party, or (if you're like me) to just eat at home, all by yourself. (This recipe was found at My Homemade Life.)
Ingredients:
1 (8oz.) block of cream cheese, softened
1/4 cup minced jalapenos (or 1/2 can, drained, if that's easier for ya)
1 tube of regular crescent rolls
Preheat oven to 375 degrees Fahrenheit and grease a cookie sheet.
In a small bowl, combine cream cheese and jalapenos – mix well and set aside.
Open your crescent rolls (do not separate them) and lay them on the counter. (After you've sanitized it of course.)
Separate long ways on the perforation, so you have two long sheets of crescent rolls with 4 rolls each in them.
Pinch the remaining perforations together on each of the two sheets (use a rolling pin if necessary) to make two continuous crescent roll sheets.
Divide the cream cheese mixture and spread evenly over both crescent sheets.
Roll them up hot dog style (or from the short end), to make a long cream cheese/crescent roll – do this for both crescents
Cut each cream cheese/crescent roll into 12-16 pieces, depending on how big you want your resulting poppers to be.
Place each one, standing up, on your cookie sheet and bake in the oven for 11-13 minutes.
Enjoy the creamy goodness.
In my opinion, the jalapenos give it just the right amount of kick to make it interesting. You can add more or less jalapenos or cream cheese to better suit your heat tolerance. I hope you love them!
-Sarah