Welcome to the second episode of the Man Monday special: ZPMHM (Zach plans my holiday meal)!
This week I'm bringing to you the entree or the main course of your meal. Now, for those of you who read last week's post, you'll notice I'm following a theme. This is a special occasion peeps! Why limit your culinary festivities by going out and buying some pre-made ham? I'm telling you, go out on a limb (or bottom sirloin *knee slapping*) and try out this roast to truly celebrate the holiday season. This particular roast is a Certified Angus Beef ® brand tri-tip. I picked the tri-tip because it ain't as expensive as say, top sirloin, prime rib, or tenderloin roasts, yet it's still pretty tender and delicious (if cooked right… that's where I'm going to help folks!). I suppose you could do a roast of your choosing, but the cooking times might vary. I'm only going to go over the techniques for tri-tip.
Throw this roast in a pan with some rosemary veggies, and you'll have impressed the masses with not a lot of effort to be honest. It takes a little bit of time, a little bit of techique, and you get a lot of reward. Without further ado, enter: your holiday roast!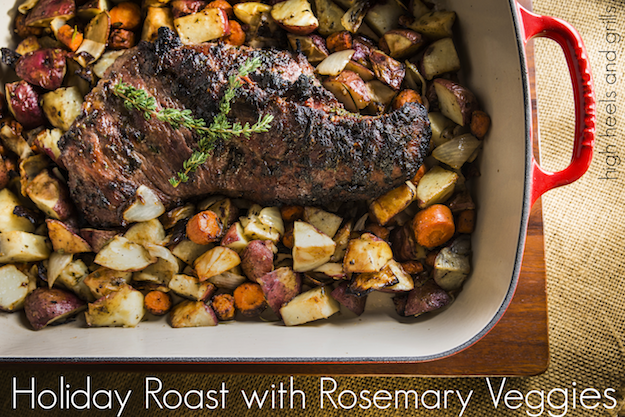 Holiday Roast with Rosemary Veggies

Ingredients:

Dry rub:

2 tablespoons salt
2 tablespoons pepper
2 tablespoons garlic powder
2 tablespoons onion powder
1/4 cup granulated honey (can be found on amazon.com), or brown sugar if you're lazy
1/3 cup chopped parsley

1 tri-tip (about 2.5 lbs)
3 tablespoons butter
(Optional) Rosemary Veggies:

3 tablespoons butter
2 cloves garlic, minced
1 1/2 tablespoons fresh rosemary (2 teaspoons if using dry rosemary)
6-8 New potatoes, chopped into 1″ chunks
3-5 large carrots, chopped
1 onion, roughly chopped

Mix the ingredients of your dry rub together thoroughly. Thickly coat the outside of your roast with your rub. For best results, let rest overnight in a ziploc bag in the refrigerator.
Preheat your oven to 300º.
Melt your butter in a large skillet (large enough to accommodate your roast). Get your pan pretty warm, but unlike a good cooking oil like canola, your butter will burn if you get it TOO hot, so be careful. When the butter looks hot and begins to brown, place your roast in the pan to sear. It should sizzle when you put the roast in. Sear all sides of the roast for about 3-4 minutes.
After you have a good sear, place the roast on a  roasting rack or oven safe cooling rack, and then place that in the center of a roasting pan.
(Optional Rosemary Veggie step) Melt 3 tablespoons butter in a small pot. Add your garlic and rosemary and let them get all lovey and comfortable with each other on medium heat for about a minute, set aside for just a bit. Put all your chopped veggies in a large bowl. Add your garlicky-herby butter to the bowl and toss. Now, place your rosemary veggies around your roast.
Place the roasting pan with roast and veggies in the oven. Now this is where it gets a little tricky. There's not really a set time for how long to cook this stuff. Let me explain. If you got a 1.5 lb tri-tip, and the high heels and grills fan down the street got a 2.5 lb tri-tip, and you both cook them at 300º for 30 minutes, yours will be pretty well done, while his will be mooing still. Okay, that's a slight exaggeration, but you get the idea. So, how do you know when it's done? A meat thermometer of course!! For a rare roast, you want an internal temp (at the thickest point) to be 125º. For a medium roast, you want 140º. Now, you'll want to take it out of the oven a good 5º BEFORE reaching your final temperature. Trust me on this one. In other words, if you want it rare, take it out of the oven at 120º. If you want it medium, take it out at 135º. It will continue to cook and go up an additional 5º, I promise. In short, it should take anywhere from 20-30 minutes.
When you've reached the right temp, remove the roast and veggies from the oven, cover with foil, and let it sit for 10 minutes before slicing and dicing (spoiler alert, there will be no dicing). When you're ready to cut into the roast, cut AGAINST the grain (as opposed to with or parallel to the grain). This will give you the most tender cuts. Enjoy!
So, that was a whole bunch of words that said: put a dry rub on it, sear it, cook it in the oven with your veggies, cut it and enjoy. See? It's really not that hard. The hardest part is getting the internal temp right, and that's pretty simple (stab and watch the digital display of the thermometer…). Just, please, for the love of Hanukkah, don't cut into the meat to look at it's doneness *Zach lifts up his nose while whispering "amateurs", even though he did this exact method up until a couple of weeks ago*.
So there you have it. Your appetizer is taken care of, you have a delicious main course, your guests are patting you on the back, your kitchen smells delicious, and Santa is steering Rudolph right around to come eat with you. Those elves will just have to have Christmas dinner without Santa. There ain't no way he's missin' that tri-tip!
What could make this experience any better? Oh, I know, dessert! I guess you'll have to wait until next week for that one, my friends.