Welcome to this week's Man Monday!
I'm so excited for this post, let's be honest. How cool is this thing?! Once again, I can't take credit for this Man Monday idea. Kudos goes to Not Martha for coming up with this awesome creation. However, this meatloaf is my recipe, and the method is a little easier (though not quite as precise) than her recipe. Regardless, it will gross out, while filling up any party of people.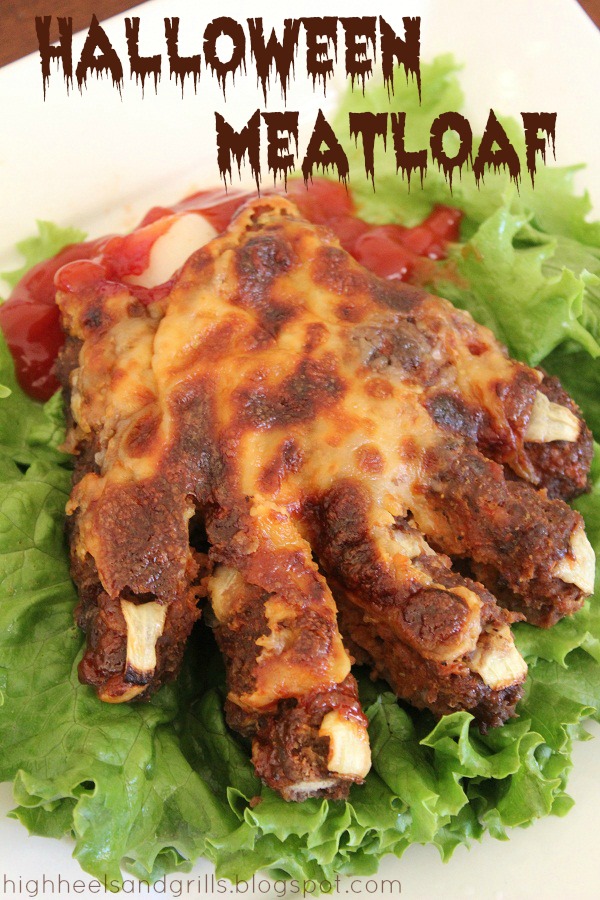 Recipe as is serves four people. For those not so good with portion judgment, that means you can make a giant hand, or two life-sized hands.
Ingredients:
Meatloaf:
2 eggs
3/4 cup milk
1 1/2 lbs of ground beef
1 small onion… remove enough of an outer layer to shape your fingernails, remove about a 2 inch diameter section of the wrist bone — I mean onion core, and chop the rest.
1 clove garlic, minced
3/4 cup dried bread crumbs
1/2 teaspoon paprika
1/2 teaspoon cayenne pepper
1/4 teaspoon sage
1/4 teaspoon thyme
4-8 oz of mozzarella cheese, sliced (forget measurements… enough slices to cover both your hands)
Glaze:
1/3 cup ketchup
2 tablespoons mustard
1 tablespoon brown sugar
1 tablespoon honey
1/2 tablespoon hot sauce of your choice
Directions:
Preheat your oven to 350°.
This is super easy. Beat your two eggs, then simply add the rest of the ingredients (minus the mozzarella, fingernail onions, and wrist bone) for the meatloaf. Now, be careful! If you get out your electric mixer and beat it all to death, your meatloaf will have an awful consistency, trust me. Mixing by hand is by far the most fun, and it just so happens it turns out best anyway.
Now, if you go and form it into a hand with separated fingers right now, you will end up with a not-so-done meat palm, and burnt meat fingers. *Zach smiles at that gruesomeness of it all* So, what you want to do is form a block in the general shape of a hand and make indentations where the spaces between fingers would be. This will help the hand cook relatively evenly. Place your fingernail onions… well, where fingernails go, and your wrist bone (onion center) where it goes. I found it's easier to cut out a space for the wrist bone rather than just shoving it in there. Place your creation in the oven.
While that's cooking, mix the glaze ingredients together. After the meatloaf hand has cooked for 10 minutes, coat your hand with a layer of the glaze. Return to the oven for another 10 minutes.
Note: If you are using 1 giant hand, the cooking time may be longer than my forthcoming instructions. If you are concerned about doneness, ensure that the inside is at least 155° before eating. Okay, moving on. Take the meat hand out again and place your slices of cheese only on the defined hand area. You might have to get creative with your mozzarella slices to get the right shapes. Return to the oven for 10 minutes. After that, broil for 5 minutes or until the cheese/skin *gross* is browned and bubbly looking.
Now that your edible hand is cooked, cut out the meat between fingers and shape to your liking.
Add ketchup in various gruesome locations and eat until your nightmarish appetite is satisfied. Mwa ha ha!
-Zach
Linking up here.