So, if you guys recall…*Zach rolls his eyes because he knows that 90% of you are just Pinterest hoppers and have probably never seen our blog before* …I'm a huge fan of Cambodian food (exhibit A). Once upon a time, Sarah bought me a "Cambodian Cooking" cookbook. I've tried several of the recipes with varying levels of success. One of those successes is this delish dish ↓ .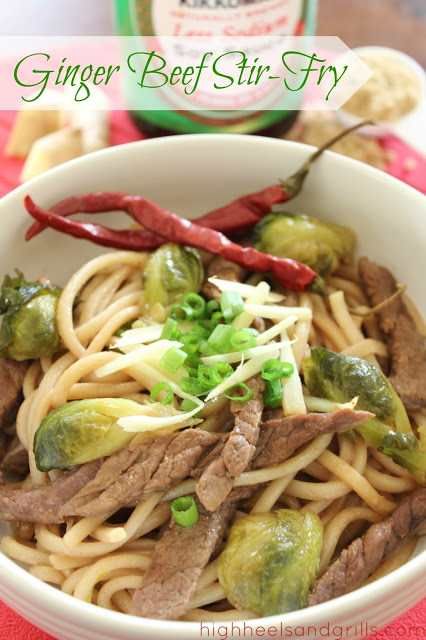 For those of you who know anything about me, you know I can't just leave a recipe alone and make it exactly the way the recipe says. In this particular dish, I made it with beef instead of pork and changed up the ingredients a little. The awesomeness hasn't altered a bit!
Ingredients:
(makes about 4 servings)
7-8 brussel sprouts (optional)
3 tablespoons oil
4 inch ginger root, peeled and cut into matchsticks
1 lb beef strips
6-8 green onions cut into thin strips (white half of the onion)
3 tablespoons soy sauce
1 tablespoon brown sugar
1 small bunch (4-5 leaves) of basil (I cut mine into strips)
Optional – 4 servings of cooked rice or udon noodles to serve with
Steam your brussel sprouts (or boil or microwave or whatever the heck you want to do with 'em) just until slightly tender, shocked in cool water, and set aside.
Heat the oil in a wok or large skillet. Sauté the ginger for about 1 minute on medium heat.
Season your beef (always season your beef before cooking!) and add to the pan.
When the beef begins to brown, add your brussel sprouts, green onions, soy sauce, and sugar. Stir-fry for about 1-2 minutes. Remove from heat.
Toss your stir-fry with the basil and serve over/with noodles or rice. That's it!
By the way, Cambodian New Year is just around the corner and you better believe I have something planned for that! [Okay, by just around the corner I mean April…whatevs.] Stay tuned my friends!
-Zach
Linking up here.