I need to brag for a minute – I have some of the best sister-in-laws in the world. I'm not even kidding!I have eight of them and I love them all to death! One of them, Nikki, is the one who inspired and encouraged me to start this blog. She has one fantasic, nay, awesomely, incredible blog which is where I got this recipe for you today. It's one of my favorite desserts and is so easy to make!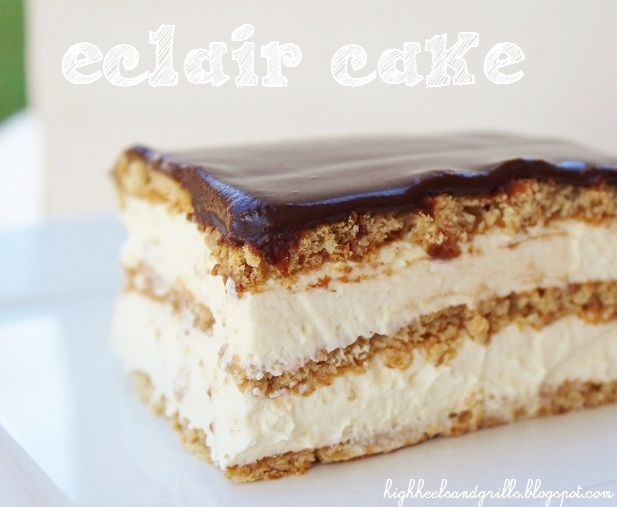 This eclair cake is more incredible than pictures or words can describe. I've eaten it at Nikki's house numerous times and it never disappoints! My only wish is that she could be here to eat it with me now!
Ingredients:
Filling:
2 (3.4 oz) packages vanilla instant pudding mix (dry)
3-1/2 cups whole milk
12 oz. cool whip
1 box of graham crackers
Frosting:
6 Tbsp. butter
6 Tbsp. milk
6 Tbsp. cocoa
1 cup powdered sugar
Directions:
Blend milk and vanilla pudding mix for about 2 minutes.
Fold in cool whip.
In a 9×13 inch pan, layer graham crackers to cover entire bottom of pan. (I use a knife to cut off the corners, so they fit snugly. I'm a little OCD, so it takes way more time than necessary, but hey, ya gotta do what ya gotta do.)
Pour half of the pudding mixture on top of graham crackers and level.
Put another layer of graham crackers on top of mixture to cover entire surface. (Cut and shape accordingly.)
Put the second half of pudding mixture on top and level.
Put the final layer of graham crackers on top to cover entire surface with bumpy side down. (This will help the top look more smooth when you put the frosting on top. Again cut and shape accordingly.)
FROSTING: In a separate bowl, microwave the butter and milk just long enough, that they are melted together.
Add cocoa and powdered sugar and blend together well. (This is meant to be a runny frosting/glaze.)
Pour frosting over top of graham crackers and smooth out nicely.
Refrigerate for at least 8 hours.
While it does take a long time to set up, it is actually a really easy dessert. I hope you love it just as much as I do!
-Sarah
P.S. Don't forget to enter our very FIRST giveaway here!!
Linking up here: The 36th Avenue, Momnivore's Dilemma, House of Hepworths, Katie's Nesting Spot, Something Swanky, A Glimpse Inside, The Shabby Creek Cottage, Somewhat Simple, The Crafty Blog Stalker, Christina's Adventures, Fireflies and Jellybeans, The Mandatory Mooch, Sweet Little Gals, Delightful Order, Hubby Made Me, Kitchen Fun With My 3 Sons, Not Your Ordinary Recipes, Simply Sweet Home, Simply Designing, It's a Hodgepodge Life, Thirty Handmade Days, Whipperberry, At the Picket Fence, Delicate Construction, Stuff and Nonsense, Happy Hour Projects, French Country Cottage, My Romantic Home, Just Winging It